WHY KAYAKING SHOULD BE ON YOUR ALASKA BUCKET LIST
Sea kayaking is one of the best ways to explore Southeast Alaska's vast roadless wilderness.
If you're reading this blog post you're probably dreaming of or planning a trip to Alaska. What drew you to Alaska? There are people who come to fish for salmon, hunt big game, climb the mountains, or see the Northern Lights but if you're coming to Alaska to experience one of the last great wild places left on the planet then sea kayaking has got to be on our list of things to do. Here's why a kayak tour is a great way to explore Alaska's incredible wilderness.
A kayaker's view of Ketchikan .
Immerse Yourself in Wild Alaska
Kayaking is a way to immerse yourself in a place. In our kayaks we are right at water level with no motors to disturb the tranquility and no barriers between us and the wilderness.
20 minutes by boat from Ketchikan, Orcas Cove is not accessible by road. It's the perfect place to explore by kayak. 
Seal on the rocks at Orcas Cove. Meeting animals in their natural environment is one of the great joys of sea kayaking.
See Wildlife in its Natural Environment
We don't see whales and bears on every tour, that's the nature of wildlife, but when we do there's nothing as awe-inspiring as seeing them in their wilderness home.
We often see orcas on our tours from late May through early September – it's an unforgettable experience!
Breathe Fresh Salt Air
Our guests frequently comment on how amazing it is to breathe Alaska's fresh air. Kayakers enjoy the briny smell of the ocean, the earthy scent of the rainforest and the pungent aroma of low tide.
Enjoying the sea air and rainforest shoreline at Orcas Cove.
Slow down and Enjoy the Scenery
With a top speed of about 4 miles per hour, there's no question that paddling kayaks helps us to slow down and appreciate the world around us. Whether you kayak with us in Ketchikan or out at Orcas Cove, the landscape is breathtaking. We're surrounded by snow capped mountains, deep green rainforest, rocky islands and sparkling ocean and kayaking gives us plenty of time to enjoy it all.
Slow down and enjoy the little things – like sea stars
Experience Self-reliance like Real Alaskans
There's no Uber Eats or Amazon same day delivery here. To live in Alaska, even in a town like Ketchikan, you must be tough, self-reliant and resourceful. When you kayak with us our guides make sure that everyone is safe but you get to paddle your own kayak on the Inside Passage.
Just across the Tongass Narrows from Ketchikan.
Feel the Rain on Your Face
We're not joking. Southeast Alaska lies within the world's largest temperate rainforest. Rain is a part of life here and it never stops locals from enjoying the outdoors. There's something delightful about suiting up in rain gear (we've got you covered there) and going out to experience the elements. But don't take our word for it. Check out our TripAdvisor reviews for opinions of previous guests, many of whom say they loved kayaking in the rain.
Rain is part of the fun in Ketchikan. We outfit everyone with waterproof gear and get out and enjoy the weather.
It's Fun for the Whole Family
Sea kayaking is fun! Come kayak with us here in Ketchikan and see for yourself. Our kayak tours don't require any previous experience, just an average level of physical fitness and a spirit of adventure.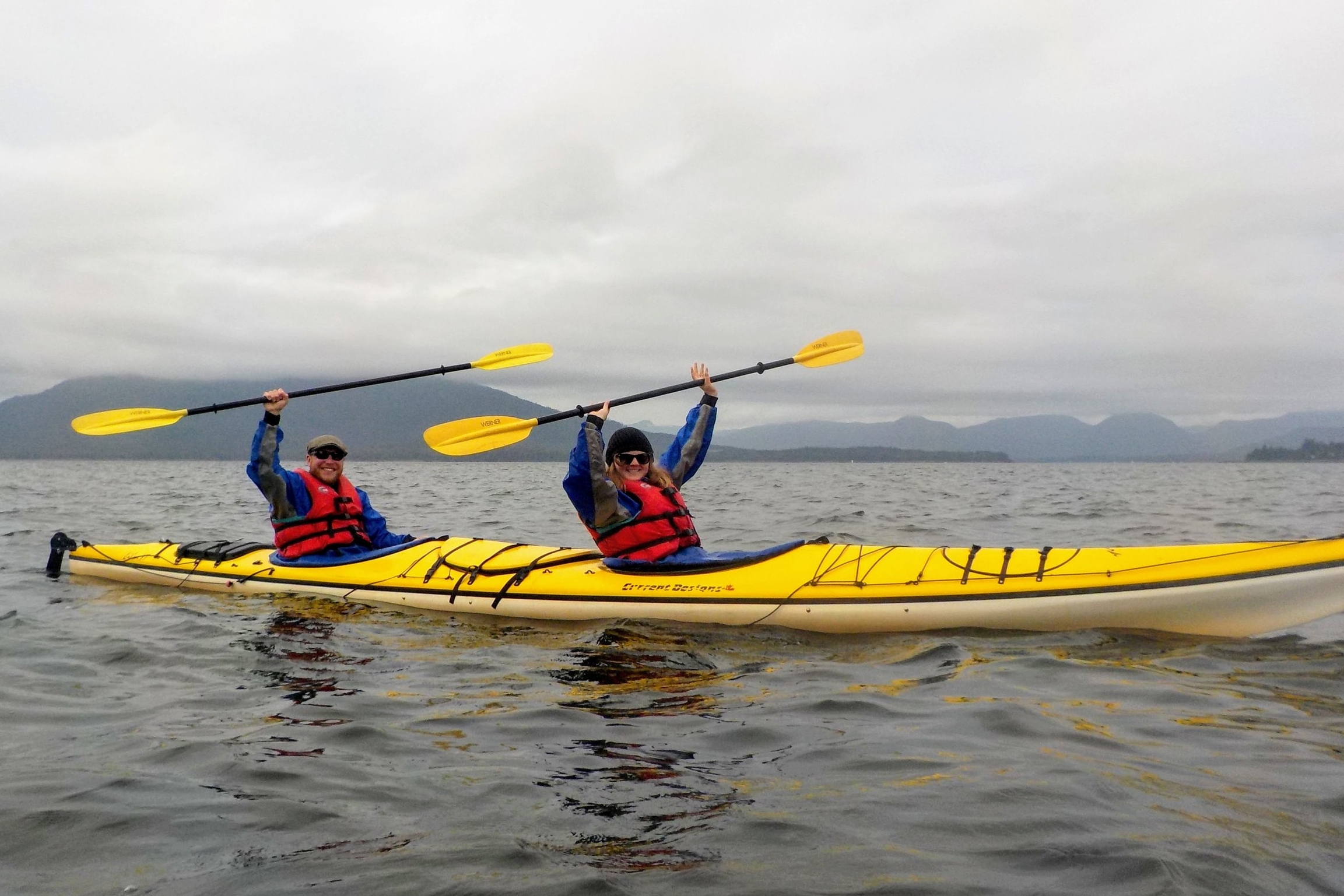 Come kayak with us in Ketchikan! It's a fabulous way to experience Alaska.