END OF SUMMER 2014
A sunny day in September at Orcas Cove.
Southeast Sea Kayaks' Summer 2014
Technically, summer has been over for a while, but no one told the Ketchikan weather that until yesterday. With over half an inch of rain in the last twenty four hours and southeast winds over twenty miles per hour, I think we might be able call summer 2014 complete and take a moment to reflect. You may have noticed that we don't blog much in the summer,  that is because we are busy here at Southeast Sea Kayaks doing all the things we love to do: kayaking, kayaking and more kayaking. It is a strange way to make a living, but we love it and we love being part of Ketchikan's amazing community. Here are some highlights from summer 2014:
Our Incredible Local Crew
It has always been our goal to employ as many locals as possible. This year we beat the record with thirteen locals on our team.
From left: Declan, Gillian, Clancy, Brendan, Tess, Annie, Greg, Kenny, Ella, Mary & Zack, Brittany, Lars, Megan, Lukas and James.
Misty Fjords with Natcho
The Misty Fjords is one of our favorite places on the planet. Granite cliffs, alpine lakes and fantastic kayaking: what could possibly make the Misty Fjords better? How about an awesome guide and pizza? Nathaniel "Natcho" Stephens led our Misty Fjords camping expeditions this year and yes, he makes pizza over a campfire.
Natcho at the waterfall on the hike to Punchbowl Lake in the Misty Fjords National Monument.
Kayak Camps
We think the only thing more fun than kayaking is teaching kids to kayak. More than 40 Ketchikan kids joined us for week long kayak camps this summer and, rain or shine, we had a blast.
Torrential rain never stops Ketchikan Kids from having fun! Kids with instructor, James White.
Rain
Let's be honest, summer 2014 was a wet one. Monthly rainfall totals: June 11.58 inches; July 12.21 inches and August 12.65 inches. That's a lot of rain, even for Ketchikan, but it doesn't stop us having fun: we just pull on our boots, suit up in rain gear and get out and enjoy the liquid sunshine.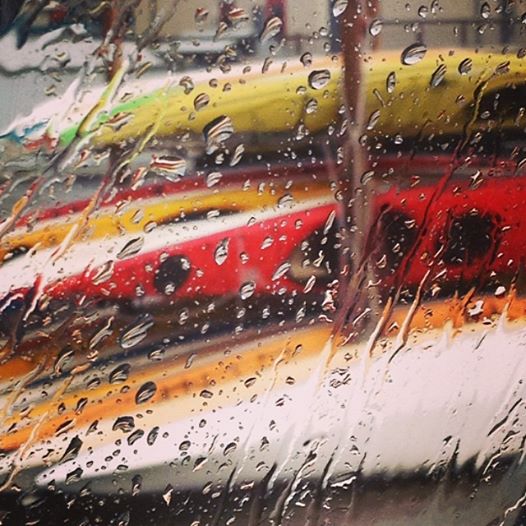 View of the kayak rack through the window of our boat office. Photo by guide, Tess Dinan.
Wonderful Wildlife
Everyone comes to Alaska hoping to see the big three: whales, bears and moose but for kayakers, some of the most magical moments come from our proximity to the water and wildlife. Like watching the seals eating salmon in the creek, or having a sealion surface right next to your kayak.
The seals are enjoying the  salmon in the Ketchikan Creek.
Great Guests
We wouldn't be here without them! A huge thank you to everyone who paddled with us this summer: we have so much fun meeting people from all over the world and showing them our piece of Alaska.
Don't forget to enter the 2014 Facebook Photo Contest! Email us your photos or post them on our Facebook wall by September 30th.