WELCOME TO SUMMER IN KETCHIKAN, ALASKA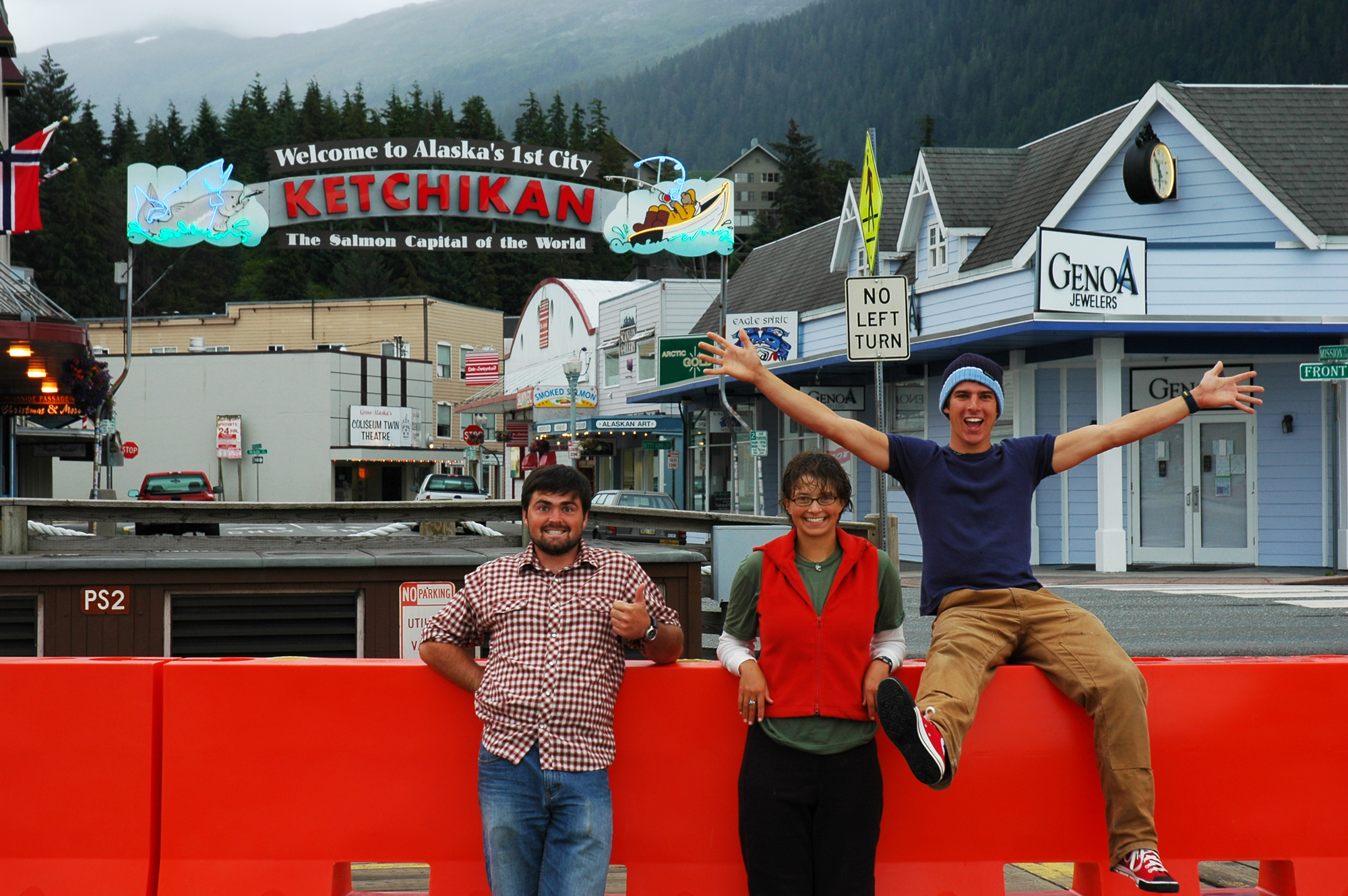 2005 Guides: Chris, Nicole & Tristan.
It has been a beautiful start to the summer season here in Ketchikan. By beautiful we mean that it has only rained every third or fourth day and it has even been sunny once or twice because, even though we think of May as summer, we still average about ten inches of rain for the month. The downtown is once again a hive of activity. Cruise ships will stop here every day now until September 21st. It's also that time of year when those who have signed up for summer work arrive here in Ketchikan. Welcome adventurous souls! There is nothing quite like a summer working in Alaska. If you embrace the damp weather and quirky island life, your summer is bound to be fun and memorable. There are a quite few things that are unique about Southeast Alaskan life, and particularly life here in Ketchikan. Here is a quick guide for newbies:
Beaches
Any area where the ocean meets the land is a beach here, unless there's a cliff then it's a Fjord. Don't expect any sand, but the views are spectacular.
Bugge Beach, a few miles south of Ketchikan is a locals favorite spot for barbeques, bonfires and swimming.
Ball Fields
Grass is highly overrated (and almost impossible to grow here) so this is a baseball field. Sliding into home on gravel is how we toughen up our kids for life in Alaska.
Ketchikan Little League and it's not even raining!
Bars with Bells
Just in case you weren't sure…
All the bars have bells in them. If you ring the bell you are buying a round for everyone in the house. Even if they don't want another drink they get a chip that they can use later. If someone else rings the bell, yu get a free drink.
The End of the Road
Road trips take about 50 minutes (maybe 55 with construction). Our paved road extends about 30 miles from end to end and runs right along the ocean. The drive is as beautiful as highway 101, just a bit shorter.
Streets
Prepare to have excellent calf muscles. Ketchikan's hills and stair streets make San Francisco look a bit girlie.
Dinner
Our friends next door at Baranof Fishing Excursions caught this huge halibut.
No one goes hungry here during the fishing season and who needs to buy meat when there's 300 lb halibut to be caught? If you don't like seafood you might be in the wrong place.
Formal wear
Xtra Tuffs, clean jeans and a flannel shirt qualify as semi-formal. Tuck the shirt in and you've got Alaska black tie.
Neighbors
Some neighbors are furrier than others, and we're not just talking about Sasquatch. Black bears are a common sight in Ketchikan, even right downtown. Help keep the bears wild, be careful with your trash, keep it inside until pick-up day and pay attention when walking at night.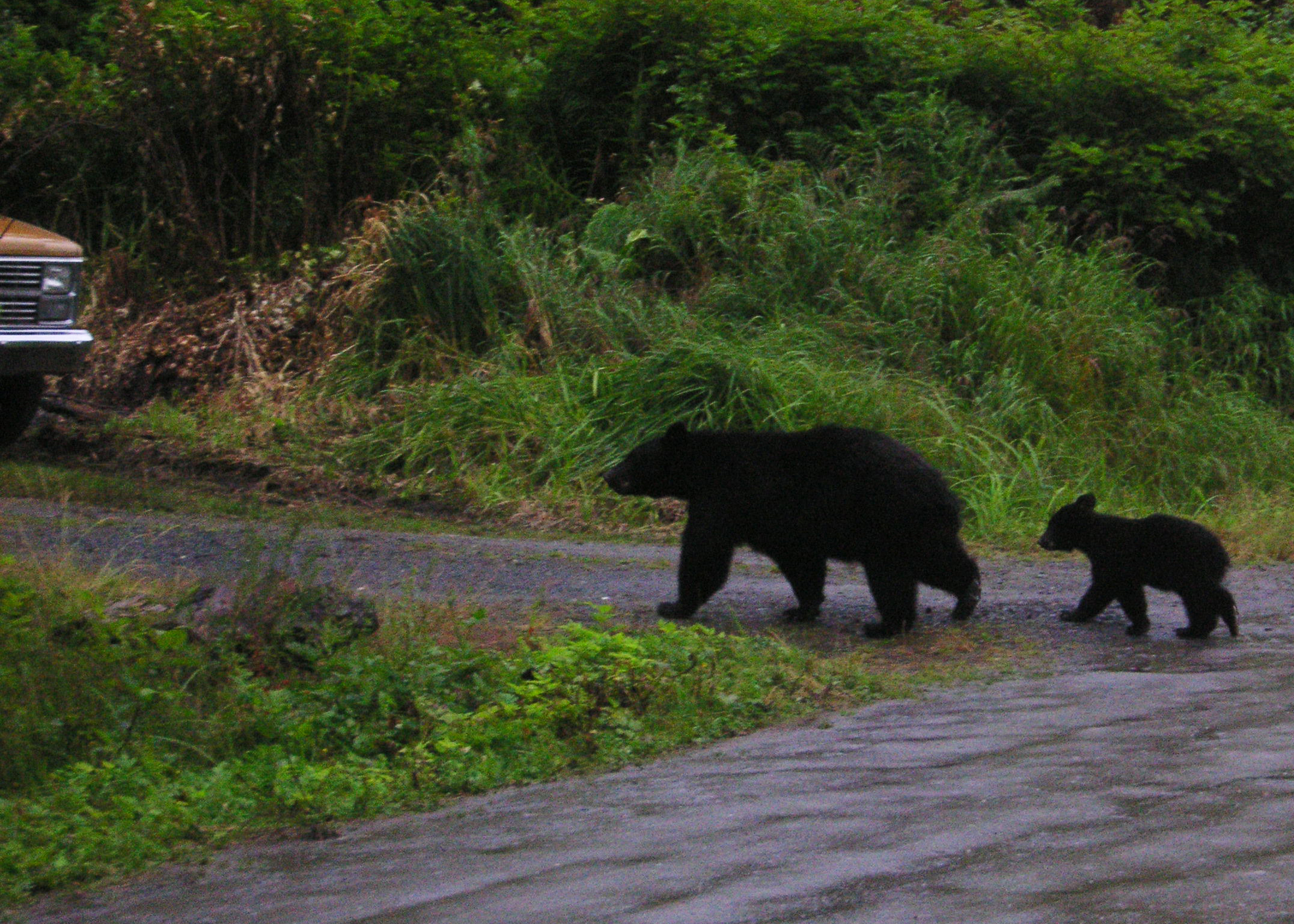 Black bears roam the town of Ketchikan, Alaska.
Grocery Shopping
Ketchikan is Alaska's 4th largest city and we do have 3 grocery stores to choose from but shopping can be an adventure. Watch out for whales by Safeway. Bear Cubs in Tatsudas. And always plan to shop when the barge gets in or you may not be able to get your SPAM.
Ketchikanians suffered through a SPAM shortage at Safeway in 2014.
And then there are the views, everywhere you look: snow capped mountains, rainforest and ocean. It's something that locals never get tired of and always appreciate. Whether you are here for the day, the summer or a lifetime, enjoy your time in Ketchikan: rain or shine, it's a beautiful and unique place to be.
The view from our floating office in downtown Ketchikan.
Do you have a favorite Ketchikan quirk?  We would love to hear it, please post here in the comments.