Kayaking Ketchikan, Alaska
The protected waters of the Inside Passage and the thousands of islands and fjords that make up the Alexander Archipelago are a sea kayaker's paradise. While famous paddling destinations like Glacier Bay and the Misty Fjords top many kayaker's bucket lists, getting to them can be expensive and requires at least a few days. Fortunately for those of us who live here and own kayaks, or for folks who are travelling through Ketchikan with their own kayaks, there are many excellent day and overnight paddling trips accessible right from the Ketchikan road system. Here are a few of our favorite kayak  trips in the Ketchikan Area. All of these trips have campsites within a few hours' paddle of town and great opportunities to see whales and other marine mammals.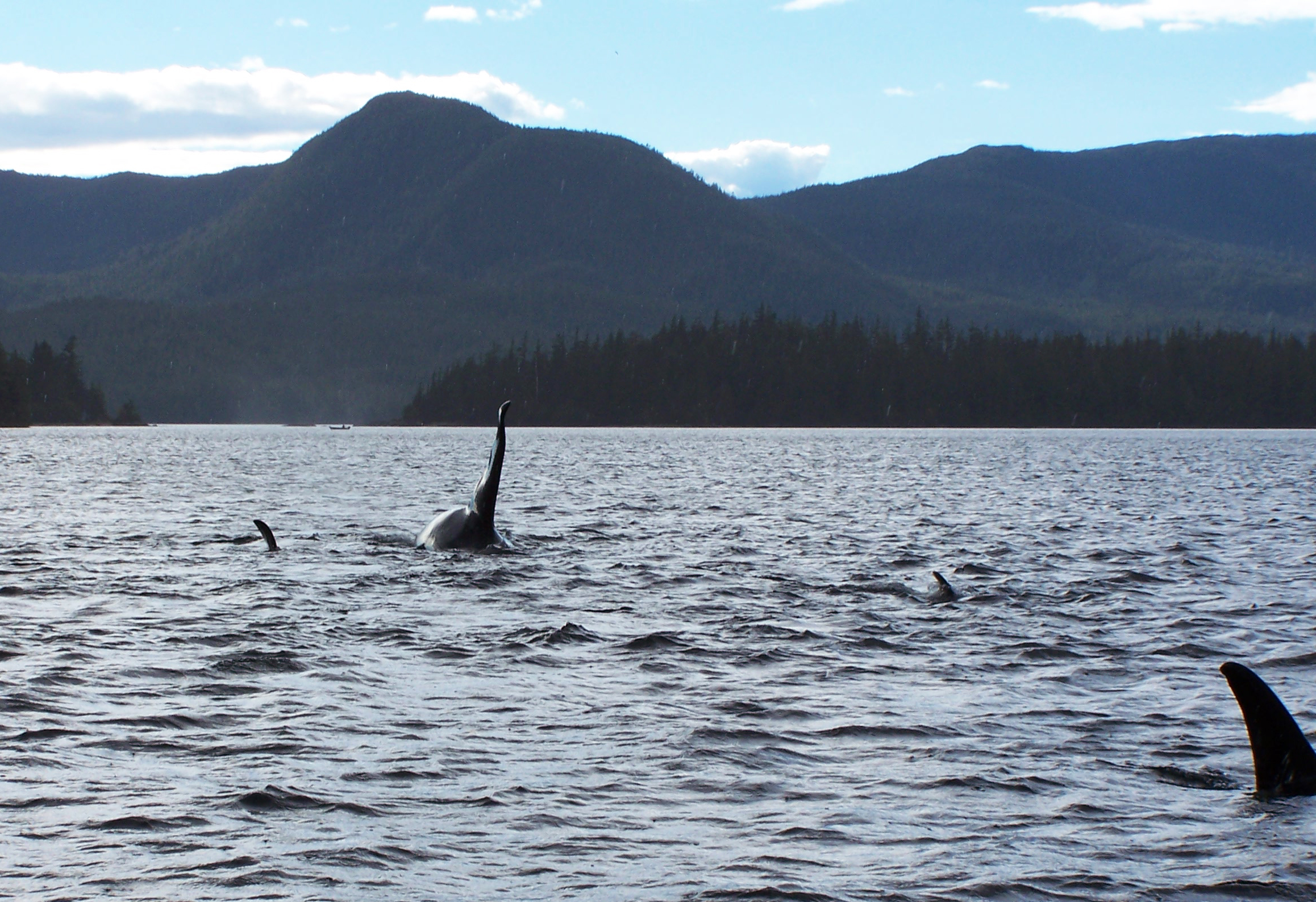 Resident orcas in Nichols Passage near the Blank Islands.
Black Sands Beach and Blank Islands
Cross the East Channel of the Tongass Narrows and head south in the West Channel following either the Gravina or Pennock Island shoreline. Watch for Steller Sea Lions and eagles at Gravina Point. Black Sands Beach is a great place for lunch. Some locals claim that the black sand heats up the water for swimming and it is a popular spot on a sunny day.  Keep an eye out for whales in the Nichols Passage. There is camping at Black Sands, on the nearby Blank Islands and down Blank Inlet. Be aware that several tour companies use the Blank Islands as a tour base, so it may be busy during the day. Pods of resident orcas, humpback whales and harbor seals are frequently spotted in the area. Return to town via the East or West Channel of the Tongass Narrows. Watch for boat traffic in the Tongass Narrows.
Put in: Bar Harbor or Thomas Basin
Time: 5 – 6 hours or overnight
Weather Considerations: Nichols passage is open to the open sea and can be very rough in a strong Southeast. Strong northwest wind creates waves and tough paddling conditions in the Tongass Narrows.
View from one of the campsites at Blank Islands.
Clover Passage
Paddle across Clover Passage to Betton Island or follow the shore up towards Moser Bay. The shores of Betton, Grant, Hump and Back Islands are interesting to explore and there are many rocky beaches to pull out on. On the outside of Betton Island, the Tatoosh Islands are great for kayaking but be aware that the islands are a base for cruise ship tours during the summer months. Clover Passage is a great area to watch for humpback whales bubble feeding in August and September. Pods of orcas also pass through the inner islands. There are places to camp throughout the islands. Watch for boat traffic: the area is popular for fishing in the summer.
Time: 2 hours – Overnight
Put in: boat ramp at Knudson Cove
Weather Considerations: The inner islands are very protected, making Clover Passage a great place to paddle on breezy days. The outside of the islands is quite exposed and can be rough in Southeast or Northwest winds.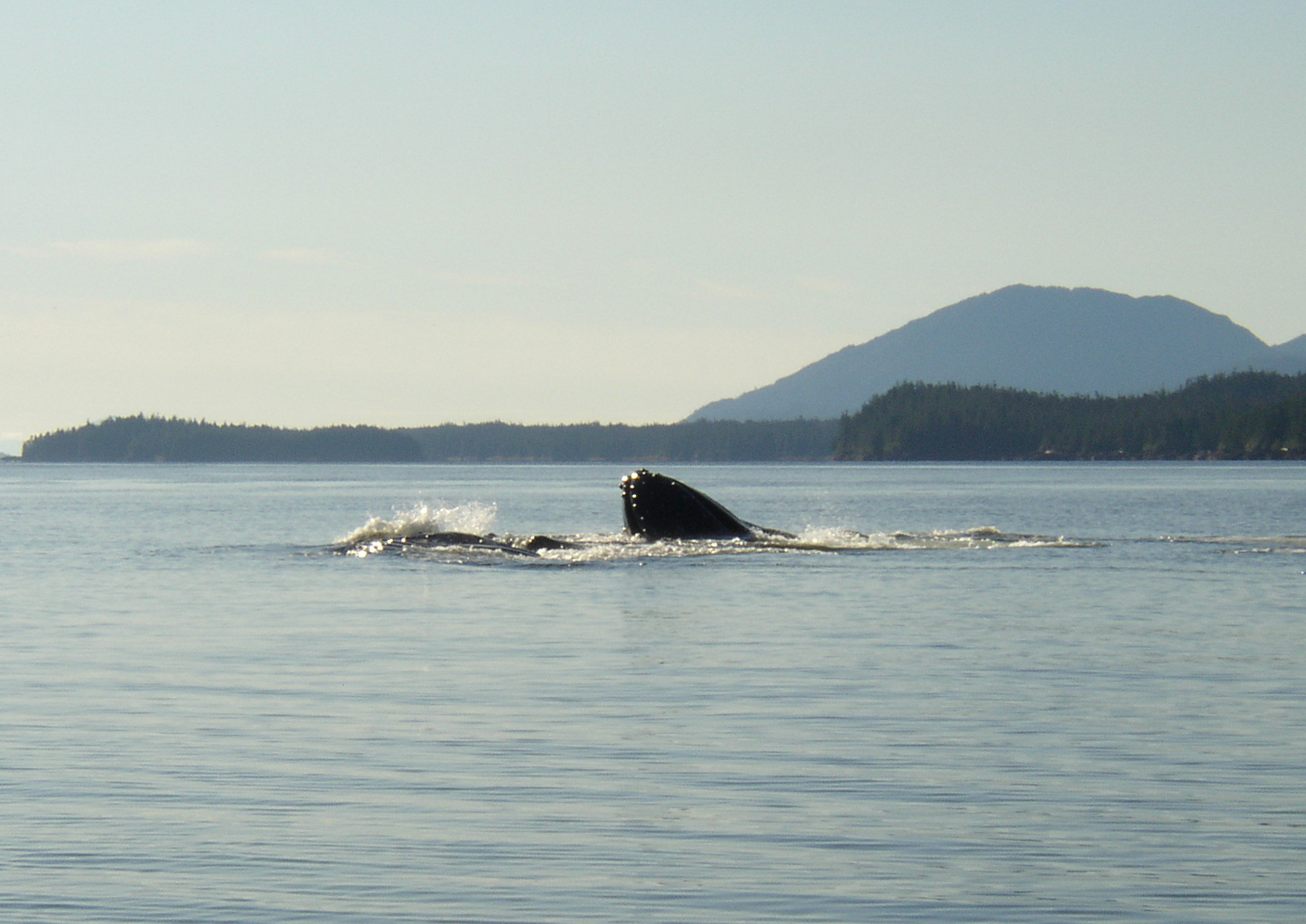 Humpback whale lunge feeding in Nichols Passage.
George Inlet
From Mountain Point, hug the shoreline heading north into George Inlet. Herring Cove is a great place to see seals and eagles and even bears at a high tide in July and August. The road ends a short distance past Herring Cove and there are many waterfalls and coves to explore. California Head, on the eastern shore of George Inlet is also an interesting place to explore but there are few places to land a kayak. Further to the north, Gem Cove is a saltwater lagoon. The entrance to Gem Cove runs dry on a low tide but can be paddled at mid to high tide. There is a short hike up to the lake at the back of the cove and we have often seen black bears in Gem Cove. There are places to camp in Gem Cove and along the shoreline of the George Inlet. Mountain Point and George Inlet are probably the best places in the Ketchikan area to see pods of resident orcas. May/June and mid August through September are the best times to watch for Orcas. Humpback whales are also frequently seen throughout the summer. Watch for bubble feeding humpback whales in May and again in August and September: they are often seen feeding quite close to the shore.
Time: 3 hours – overnight
Put in: Mountain Point boat ramp or Hole in the Wall
Weather Considerations: Mountain Point Area is exposed to weather from the southeast. George Inlet is very protected but can get choppy in a Northwest Wind.
Be Prepared
The cold water temperatures here in Alaska leave no room for error. Anyone planning to paddle a kayak on their own in Alaska should know self rescue and have practiced rescues in cold water. The Ketchikan Vistors Bureau has Spot devices available to sign out. Kayakers are always welcome to call or email us at Southeast Sea Kayaks for trip planning help or advice.
Kayaking Checklist:
Check the weather forecast

Bring a map and compass

Wear a PFD and carry a paddle float and bilge pump

Carry a marine radio and know how to use it

Even on a day trip bring food, water, flares and emergency shelter

Be respectful of private property

Let someone know when you will be back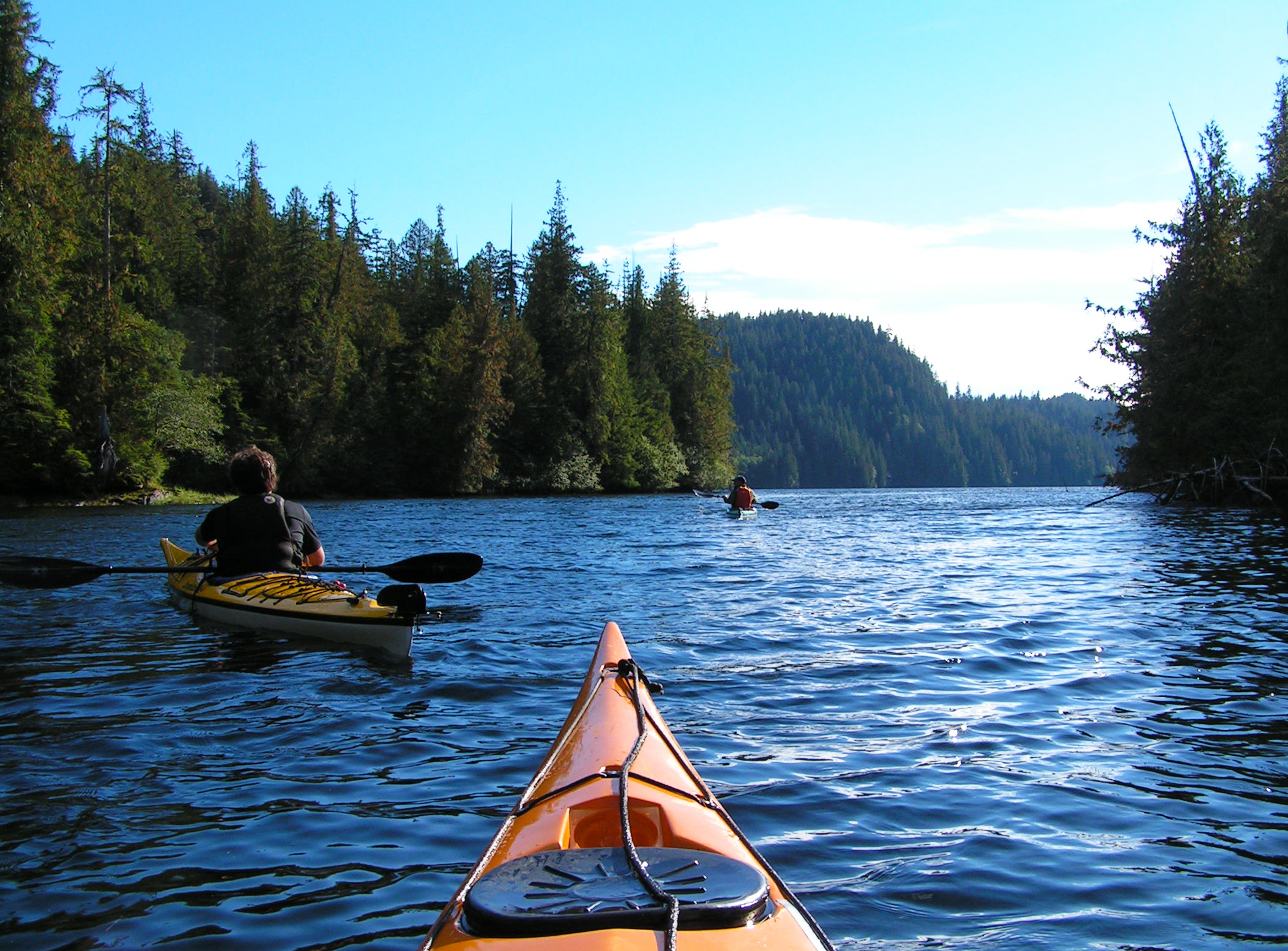 A beautiful afternoon for paddling George Inlet.