KAYAKING WITH KIDS IN ALASKA
Kids love adventures! Kayaking is a great way to spend quality family time outdoors.
When Can Our Kids Start Kayaking?
I'm of the opinion that the only thing better than doing something that you love is doing that thing with kids. When the twins, who are now almost ten, were born there were just two important questions. What will we name them? And when can we take them kayaking? Since then our outdoors loving friends and neighbors have often asked us the same question, when can we get our kids into kayaks? When you can begin kayaking with kids depends on the child; what type of kayaks you have available; and where you will be paddling. It's going to be a lot easier and safer to get kids out on the water in Florida or Hawaii than it is in Alaska or the Pacific Northwest but we think it's more than worth the effort. We love kayaking with kids and want to share what we have discovered in a decade of parenting twins and teaching kayaking to kids here in Ketchikan, Alaska.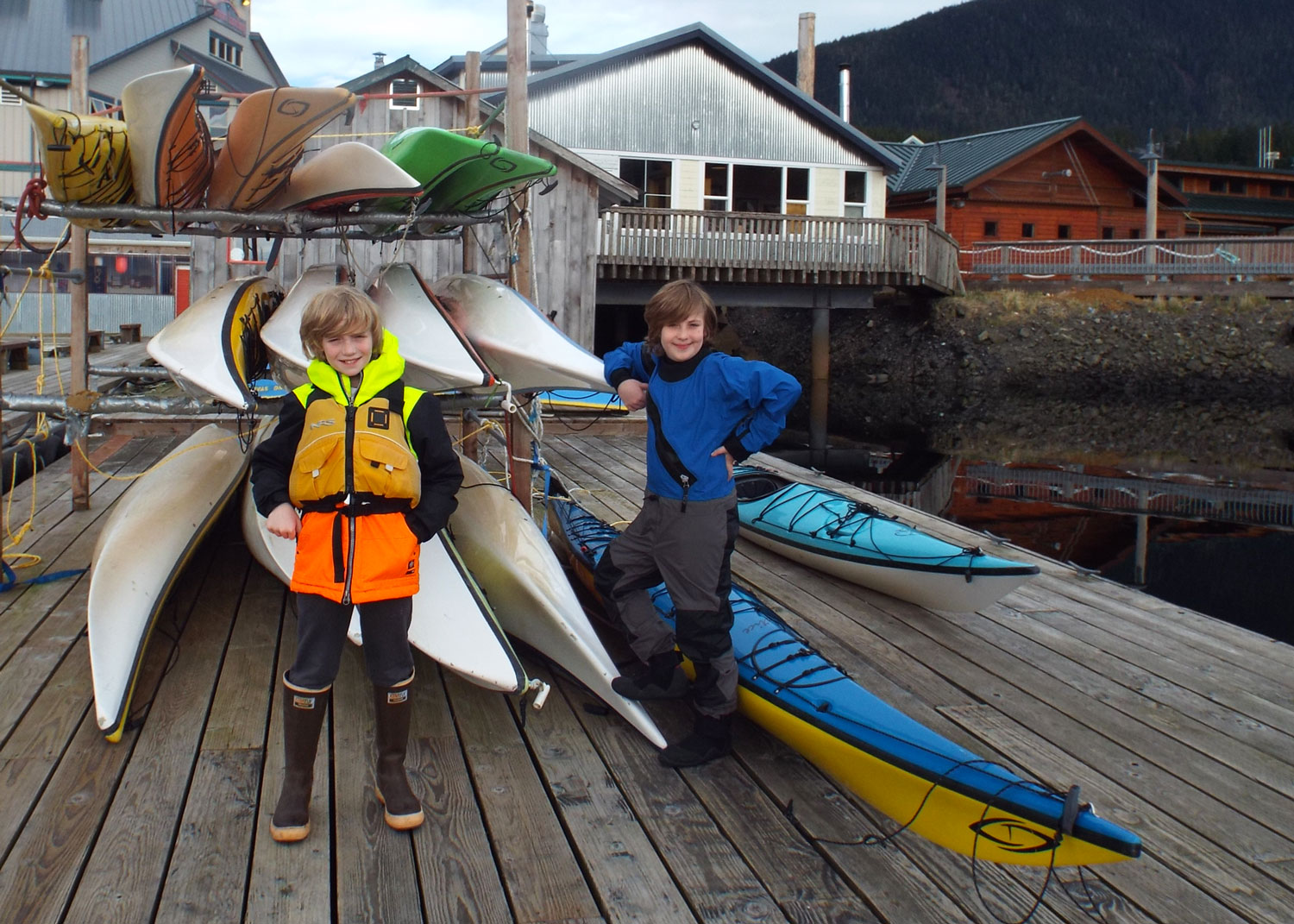 Dressed to kayak: PFD and high visibility rain gear and kid size dry suit for winter paddling.
Safety First
Taking care of kids on the water (particularly our cold Alaskan water) is a big responsibility. Here's how we keep our kids safe.
Dress kids appropriately. For Alaska that means layers, beanies and waterproof outerwear – typically kids need at least 1 more layer than adults.
Use drysuits for winter paddling or for kids just starting out in single kayaks.
Carry spare clothes, snacks and emergency supplies on every paddle.
Wear a correctly sized life-jacket and put life-jackets on younger kids as soon as they get near the water.
Make sure the kayaks have bulkheads or floatation bags.
Check the weather report and don't push the envelope.
File a floatplan with a friend or family member
Make sure that kids learn to swim before they learn to kayak.
Teach kids to self-rescue as soon as possible. This is important for adults too – anyone who plans to paddle without an experienced guide or instructor should know how to rescue themselves.
Kelp puppets keep little kayakers entertained.
A Timeline for Alaskan Kayak Kids
2 – 4 yrs
Exactly when little kids are ready to try out kayaking with their parents depends on the child. We started taking our twins on 30 minute paddles pretty regularly when they were 2 years old. One of them sat calmly and enjoyed the ride, the other bopped around, leaned over the side, dragged his hands in the water and put us in constant fear of capsize. Bringing a bag of rocks for him to throw in the water and lots of snacks, helped to make paddling more fun.
Short, interesting paddles with stops for kids to get out on the beach and explore work well for this age group. Small children can sit right in front of an adult on a cushion or paddle float in the cockpit or in a center hatch of a double kayak like the Current Designs Libra XT or the Seaward Passat G3.
Spring break kayaking in Misty Fjords National Monument. Triple kayaks are great for families. Northwest Kayaks' Seascape 3 is our favorite; it has a huge rudder and is very easy to paddle even with 2 kids in the front.
5 – 7 Years
By the time they are 5 most kids are ready to spend a little longer in a kayak and want to try to help with the paddling. Kids in this age range paddle enthusiastically for very short amounts of time, and whether their paddling actually helps to propel the kayak depends on their size, paddling style and the paddle itself. Kids need kid sized gear.  Their paddles need to be short, have small blades and be lightweight.  Werner Paddles'  "Little Dipper" in a 210 or 220 is the ideal paddle for kids and should last them from age 5 – 10. Double and triple kayaks are perfect for family paddling with this age group – kids in single kayaks won't be able to paddle for long – but most double kayaks are too deep for kids to be able to paddle effectively. The solution?  Booster seats made from blocks of kayak outfitting foam and a kayak seat pad help kids sit up high enough to paddle and enjoy the view. If your kids are ready to start paddling on their own, Current Designs' Raven is a beautiful kids kayak – it is perfectly sized for kids ages 5 – 8 – and might be a great investment for families with kids of different ages (our kids loved them but quickly grew out of them.)
7 years old: kayaking on Ward Lake in Current Designs' Raven kids kayak.
8 – 11 yrs
This is such a fun age for families with kayaking kids. Our experience with kayak camps is that kids ages 10 and up are reliably able to paddle sea kayaks for an hour or two at a time with breaks and younger kids with lots of exposure to kayaking are also able to keep up. It's time to gear up for day trips or even kayak camping. If your kids haven't already learned how to rescue themselves, now's the time to take a class, attend a camp or practice self rescue in a safe location. Kids in this age range still benefit from gear that's correctly sized for them. We use Current Designs Vision 135s for our kayak camp singles and Current Designs Unity doubles or Seaward Passats – they're all great kayaks for kids who aren't quite adult size.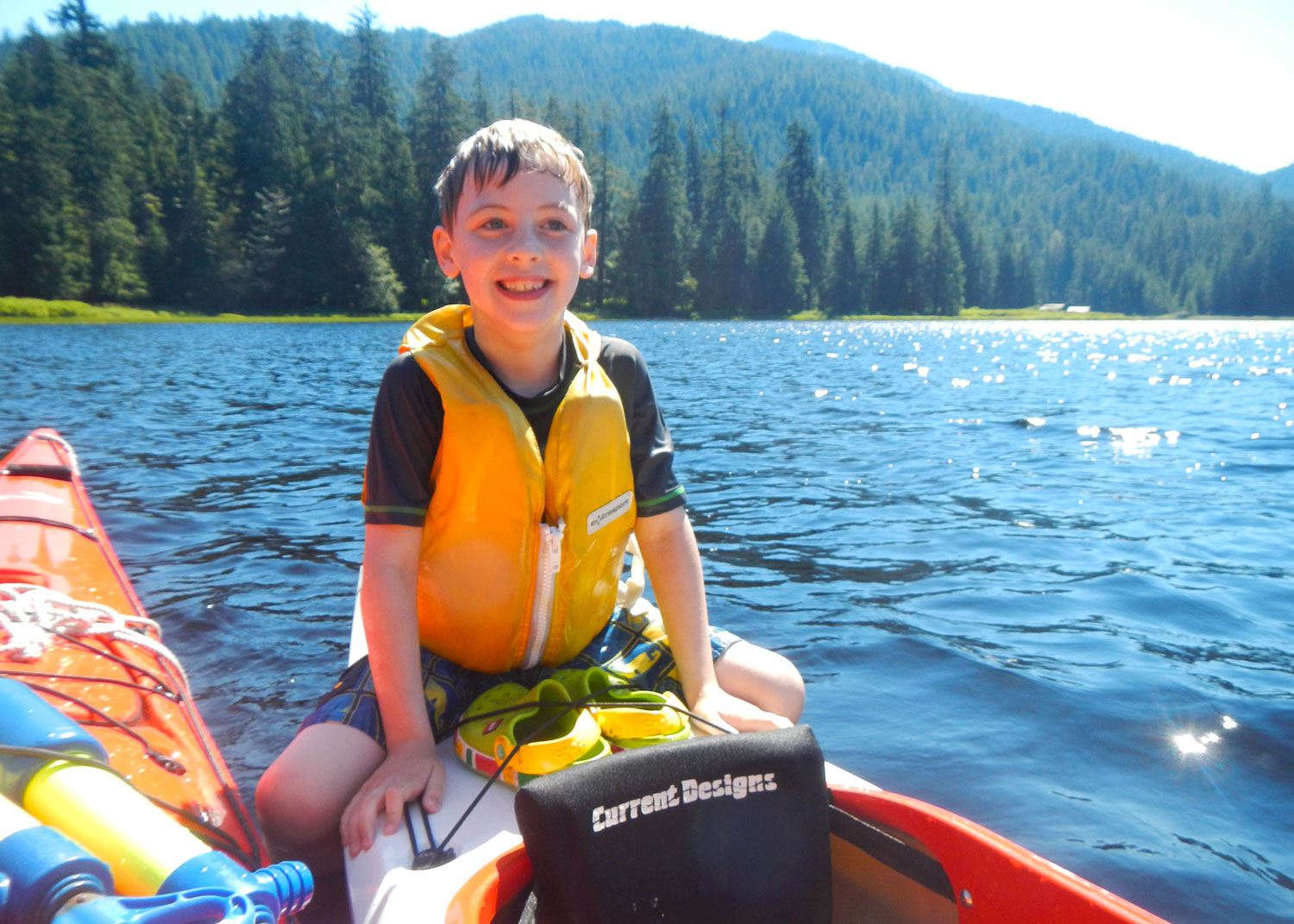 Kids need to practice self rescue in a safe environment.
12 – 16 yrs
Quite honestly kids in this age range are often better paddlers than adults and they're fearless so it's a great time to learn about paddling in windy or rough conditions. Once they've learned to rescue themselves, pack their safety equipment, read the weather and water and use emergency communication devices kids in this age group are ready to paddle on their own or with friends.   
Graduated to his own 18 foot sea kayak, this kid leaves the grown ups behind!
Ready to give it a try?
If you're visiting Ketchikan, Alaska join us on our Orcas Cove, Icehouse Cove or Ketchikan Kayak tours. Locals, check out our kayak camps for kids ages 10 – 18 or bring the whole family along on one of our Saturday morning local paddles.