SUPERHEROES OF THE INTERTIDAL ZONE
There are many interesting creatures to see by kayak at low tide in Southeast Alaska.
Most visitors come to Alaska hoping to see the wildlife big three: eagles, whales and bears. Sure, the big three are majestic, but can any of them eject their own intestines? Not a chance. Some of Alaska's most interesting creatures are the marine invertebrates of the inter-tidal zones; these seemingly sedentary animals have adaptations and abilities that would make Spiderman envious.
Whelks: Drilling Power
Most sea snails are gentle herbivores but whelks are carnivorous and they can drill holes with their tongues! Whelks use acidic secretions and a specialized radula (an anatomical structure often compared to a tongue) to drill holes in the shells of unsuspecting mussels, barnacles and clams. Once through the shell, the whelk's digestive enzymes liquefy their prey for an easy meal.
Whelks were eaten by the wheel barrow-full in Victorian England and have been making a comeback on modern menus. However, whelks should not be eaten during the summer months in Southeast Alaska. Their diet of mussels and clams means that whelks can accumulate the toxins that cause paralytic shellfish poisoning.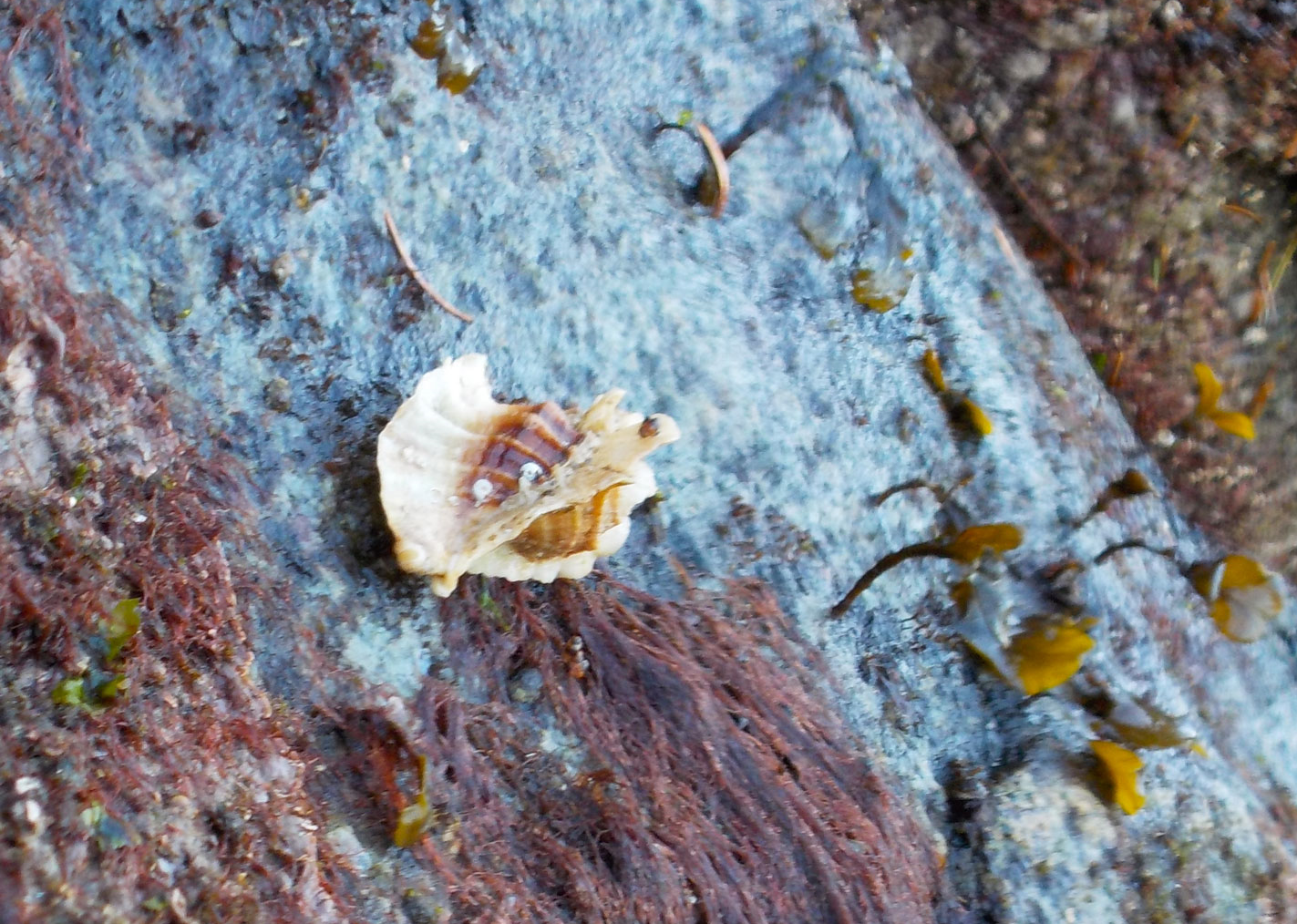 This whelk, a leafy hornmouth , can bore through the shells of its prey with its radula. The radula is a tongue-like structure unique to mollusks.
The Armored Chitons
Chitons (also called sea cradles) armored up long before Ironman. Chitons are mollusks with long flat bodies, amazing adhesive powers and incredible armor. They travel (slowly) over rocks using a muscular "foot" and are protected by shells with eight overlapping plates. Their strong adhesive foot helps chitons hang onto the rocks in the splash zone while their armor fends off predators.
There are forty-three known species of chiton in Southeast Alaska. One of the treasures of the low tide is the giant Pacific chiton or, gumboot. Gumboots can grow to thirteen inches in length, live for over twenty years, and Alaskans love to eat them sauteed in garlic and butter.
Giant Pacific chiton , also known as a gumboot, surrounded by tube worms , limpets and whelks.
Leather Stars: Stink Power
Leather stars are lovely to look at with their shiny red and tan patterned discs but their smell is a different story. Leather stars are also known as garlic stars because they have a distinct (some may say foul) odor of rotting garlic. Apparently the stink is a good defense; leather stars are rarely eaten by the giant sun stars or sunflower stars that prey on other sea star species
Leather stars amongst the kelp in the intertidal zone at Orcas Cove.
The Extraordinary Stomachs of Ochre Stars
You might think that opening up mussels and barnacles would be difficult without opposable thumbs or a drilling radula but ochre stars have got their prey covered, literally. Ochre stars can extrude their entire stomach. Once their stomach is outside their body ochre stars need just a millimeter wide opening to suck out the insides of their favorite bivalves. The soft insides of the mussels or clams are then pulled back inside the ochre star for a tasty meal.
Ochre stars , or purple stars, are often found clustered together in the intertidal zones of Southeast Alaska.
Anemones: Cloning Power and Immortality
Anemones are seriously amazing creatures. Not only can many species reproduce by cloning themselves, they also engage in clone wars. One set of clones will fight an encroaching set of clones until a "neutral zone" is established; this is likely the cause of the clear delineation between anemones of different colors in the picture below. If that's not exciting enough for you, anemones may also hold the key to eternal life. As far as scientists know, some species of anemones do not die. They have been documented to be over 100 years old and are believed to be immortal.
Anemone clone colonies will not tolerate incursion by other clones. The clones "fight" until a neutral zone is established.
Sea Cucumbers: Disemboweling Defense and Regeneration
Sea cucumbers are are not a vegetable at all. They are echinoderms just like sea stars. Some sea cucumbers can eviscerate as a defense mechanism: they eject their own internal organs to confuse a predator and slide away. It takes about a month for the sea cucumber to re-grow the organs which, in itself, is a pretty handy super power.
Sea cucumbers are a delicacy in many Asian countries. During the fall months in Ketchikan there is a commercial sea cucumber dive fishery. Dry suit divers scour the bottom for sea cucumbers which are pulled to the surface in mesh bags and sold to fish processors. Think you've never eaten sea cucumber? If you've ever eaten a seafood flavor ramen noodle, chances are good that there was dried sea cucumber in the seasoning.
Green sea urchins , cucumaria miniata, leather star, blood star , white sea cucumbers and California sea cucumber .
How Can You See these Fascinating Super Friends?
The tidal range in Ketchikan, Alaska is over 20 feet which makes for an incredibly diverse intertidal zone. Sea kayaking is one of the best ways to explore the fragile intertidal ecosystem; we can see and touch these amazing creatures from our kayaks without damaging their unique habitat. We have wonderful intertidal zones to explore on both the Ketchikan Kayaking and Orcas Cove Sea Kayaking tours. Large tidal swings mean that low tide is the best time to paddle if you would like to meet these super creatures. You can learn more about Ketchikan's tides here. If you're planning a trip with us, please call or email: we will be happy to check the tides on the day of your tour.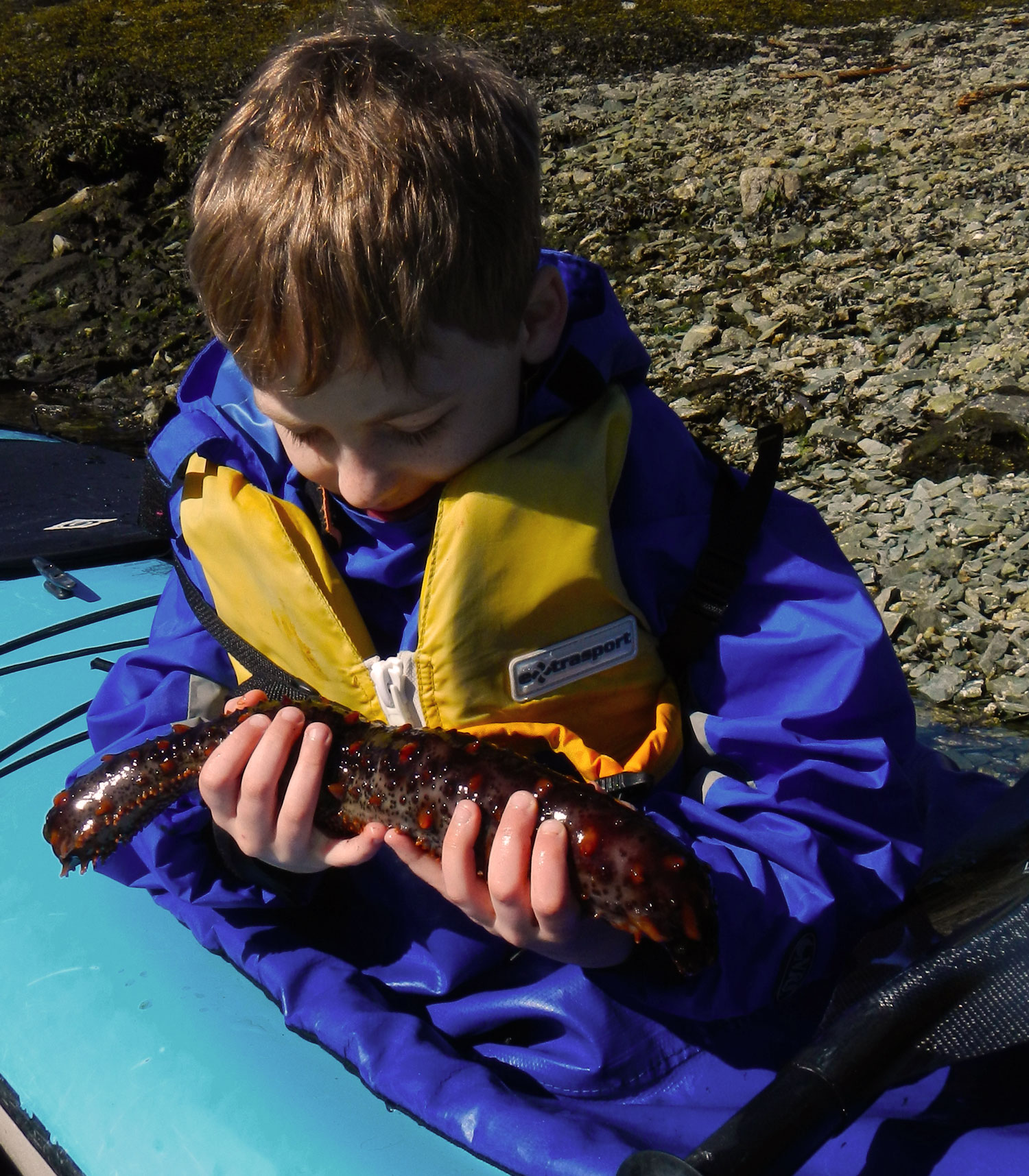 Declan examines a sea cucumber in Snow's Cove on the Ketchikan Kayak tour.