Meet the 2015 Southeast Sea Kayaks Team
Some of our wonderful 2015 crew. Back row: Nicole, Adam, Josh, Annie, Brendan, Andre & Gabe. Front row: Emily, Clara, Mariana, Jess, Lukas.
We are so proud of our exceptional crew of friendly and highly trained guides and office staff. Although they often make it look easy, guiding kayak tours here on the cold Alaskan waters is a tough job: it requires strength, skill and a real love of working with people.
Here's an introduction to our 2015 crew. These amazing guys and girls have been thrown in the ocean in dry-suits for hours to learn how to take care of our guests on the water and when they are done with that they go home and study marine biology, geology and history to make their tours more fun and interesting. Rain or shine, they will work hard to make your Alaskan kayaking experience the very best that it can be.
James
James White is our lead guide and Kayak Camp director. He has been guiding at Southeast Sea Kayaks for five years and loves Ketchikan so much that he moved here! When he is not kayaking, James works in the Ketchikan school district and is studying for his Master's Degree in teaching. He also often appears in First City Players' musical productions and his wonderful baritone is a welcome addition to the annual Sea Shanties and Songs of the Sea night.
James & Girl Scout Kayak Camp participants
Brendan
Brendan grew up in Ketchikan and loves sharing his local knowledge with guests here in Ketchikan. During the school year, Brendan is a student at Pacific Lutheran University in Tacoma, Washington. He is studying marketing there, and is excited to do some learning on the job this summer when he's not guiding.
Michael M. on Trip Advisor says: "Brendan met us on time and took us through several safety checks before getting into our kayaks. He was instructive in how to kayak so that we could maneuver safely. Brendan was also well versed in Ketchikan history and the nature around this port."
Andre
Andre's customers always love his enthusiastic energy. He came to Southeast Sea Kayaks after years working as a river rafting guide. He has also recently graduated with a BA in music and plays the french horn. We often hear him seeing and humming classical music while he washes his kayak gear and moves kayaks around the docks. Andre is a history buff and civil war re-enactor: if you love history and esoteric facts, Andre is the guide for you!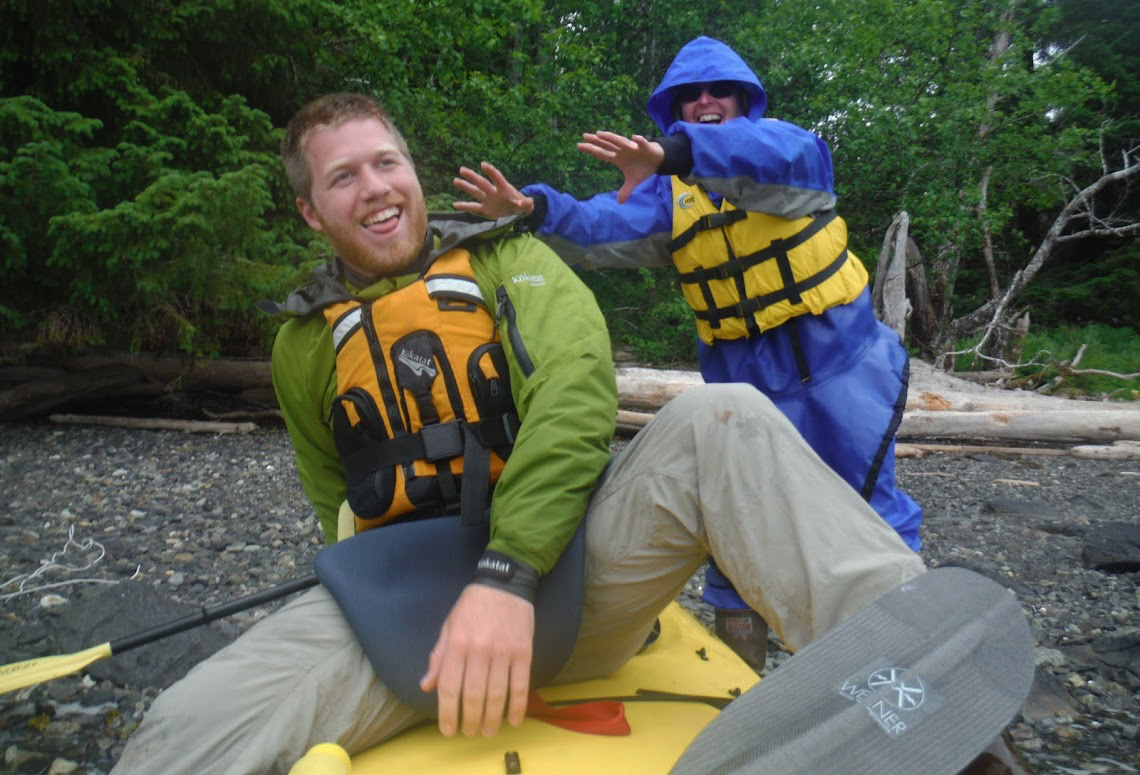 Andre gets a friendly shove from a guest during a lunch break on the Icehouse Cove Kayak/Hike trip.
Annie
Annie loves her kayak guide job in the summer and it's an excellent break from what she's doing the rest of the year – studying engineering. Being from Ketchikan Annie enjoys being able to share her home with visitors throughout the summer, and she is a wonderful naturalist. If you are interested in marine biology, Annie is the guide for you! Annie says that kayak guiding is an experience that has already given her one advantage in the engineering field: great people skills.
Adam
Adam has put his full heart into kayak guiding after years of working in an office job that just didn't feel right. He loves being outside on the water all day, and spends time when he's not working studying the local flora and fauna. One of our customers recently wrote on TripAdvisor about Adam: "Our guide, Adam, was patient, funny and genuinely kind. He clearly loves his job and it shows! He made sure to point out eagles overhead, starfish in the water and told tales about local spots. We thoroughly enjoyed our time and it was one of our highlights of our trip to Alaska.
A guest sent us this great photo of guide, Adam, and seals on the rocks at Orcas Cove.
Emily
Emily grew up in Ketchikan and has spent many years on the water here in Ketchikan fishing and kayaking with her family. This fall Emily plans to attend the University of Alaska in Anchorage, she hopes to become a teacher. Emily is an incredible naturalist and knows all about the wildlife in the Ketchikan area: if you love birds, she's the guide for you!
Josh
Josh moved to Ketchikan with his family who are in the US Coastguard; he graduated from KAYHI and is studying to be a mechanical engineer. Josh worked on a commercial fishing vessel before becoming a sea kayak guide in 2014. Guests love Josh's upbeat personality and his extensive knowledge of marine biology.
Jess
Jess came to Southeast Sea Kayaks after working as a whitewater river guide in Idaho. She is excited about sharing the beauty of Southeast Alaska with her guests and paddling on the salty ocean! Jess is studying geology in college, and gets to take in all the geologic history carved into the landscape surrounding Ketchikan while she's kayaking here. Jess loves working with kids and is also one of our Kayak Camp instructors.
Jess crosses the Tongass Narrows on a Ketchikan Kayaking Tour.
Lukas
This is Lukas' second summer working for Southeast Sea Kayaks. He loves working with people. Lukas has a deep love for boats, and has even built his own dugout canoe. Above all, Lucas loves fishing – one reason why Alaska is the place for him!
Leanne on TripAdvisor talked about her trip with Lukas: "He was knowledgeable about the area and the local wildlife. We paddled around Orcas Cove for a while, we saw some bald eagles and an eagles nest. On the way back in Lukas said that we would just relax for a bit and let the current take us. He went on to tell us that it was a good spot to view whales and wildlife. And sure enough about 10 minutes later we spotted a humpback whale and her calf."
Mariana
Mariana is nearing the end of her degree in eco-tourism. She is an adventurer with a love for nature, and believes in taking all of the opportunities a moment has to offer. Mariana's guests love how knowledgeable she is. She dreams of someday running her own eco-tourism business – after she spends some time exploring other parts of Alaska, Hawaii, New Zealand…
Mariana receives phenomenal reviews from the people she kayaks with. Someone on TripAdvisor recently said: " Our guide, Mariana, was wonderful and took great care of us and made our excursion a memorable one. We saw some many really cool things and learned a lot about the area and saw the tidal variances that we had only previously heard about."
Mariana in Icehouse Cove
Lars
Boat Captain, Lars, loves people, and people love him. One recent TripAdvisor review sums up Lars so well: he is "full of fun tales and very helpful." Lars loves living in Alaska, and is always happy to introduce anyone he meets to Ketchikan and the surrounding nature. And not just tourists – Lars also loves taking the seasonal workers in Ketchikan out exploring and making sure everyone gets the most out of their summers here.
Gabe
Boat Captain, Gabe, lives in Hawaii and followed the whales up here to work as our boat captain this year. He is really excited about living in Alaska and experiencing the beauty of the rainforest here – he's even said he's disappointed that it hasn't been more cold and rainy this summer! Gabe is an excellent boat captain, and he is also a great amateur photographer.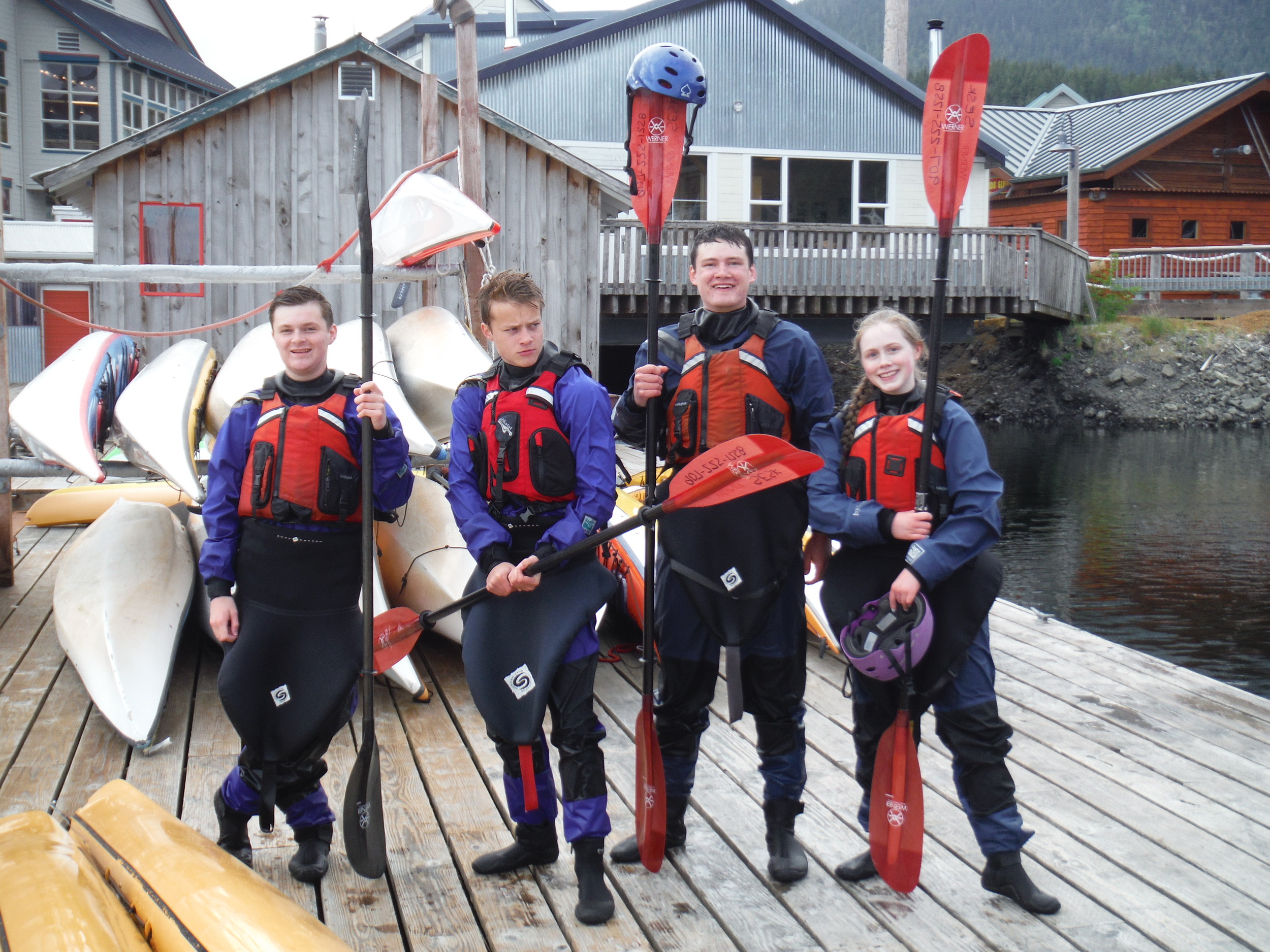 From left: Kenny, Rudy, Brendan and Clara all geared up for dry-suit training
Clara
Clara is a dancer who has danced with the Ketchikan Theater Ballet for twelve years. She played Maria in The Sound of Music last year and this year she appeared in First City Players production of Romeo and Juliet. Clara is often the person you meet on the dock, but she also loves kayak guiding. She is the fun and friendly little sister of Brendan.
Kenny
Kenny is Annie's fun little brother. Customers like his sense of humor. He loves playing soccer for the KAYHI Kings. Having grown up in a family that loves to spend time on the water, Kenny is a great paddler and he loves showing people his hometown.
Rudy
Rudy also plays soccer for the KAYHI Kings and runs cross country. Rudy loves his job and guests love his sense of fun and humor. He has been kayaking since he was a kid, and is an excellent paddler. His dream is to become a journalist.
Nicole
Nicole came back to Alaska after five years of living in the crowded UK, because she missed the Pacific Northwest nature more than anything. She has a master's degree in sustainable development and is very passionate about ecotourism. Her  plan is  to one day run her own 'glamping' site and eco-retreat centre with a working farm. Nicole also has her own YouTube channel about food, where she's most recently talking about what kinds of foods you can forage in Southeast Alaska. She's really excited about working in Southeast Sea Kayaks this summer.
Office Manager, Nicole, loves to cook and paddle in her spare time.
Want to Join Us?
Do you know someone who would make a great addition to this fun and friendly team? Every summer we hire lots of locals to guide, work in the office and help out with kayak camps as well as a couple of full season guides and boat captains. Hop on over to our employment page for information for the 2016 season.
1st Annual Southeast Sea Kayaks soccer match. Ketchikan vs. World. Winner? Ketchikan of course!