THINGS TO DO ON A CRUISE STOP IN KETCHIKAN, ALASKA
Figuring out what to do in each port is part of the fun of an Alaska cruise. As longtime year round residents of Ketchikan, we at Southeast Sea Kayaks are happy to help you make the best of your time in port. Here are our suggestions for tours, shore excursions and activities during a cruise stop our lovely town. 
Take a Tour With a Local Company
Ketchikan is home to many tour companies owned and operated locally by dedicated members of our community. One of the best ways to shop local and support Alaskans is to book your tours directly with the local operators.
Kayaking
While we may be a little biased, our absolute favorite thing to do in Ketchikan is explore our community and coastline from the seat of a kayak. We offer multiple trip times for kayak tours each day throughout the summer. Our 2.25 hour Ketchikan Kayaking tour gives an overview of the town while our 4 hour Orcas Cove is a wilderness boat and kayak adventure that takes paddlers far from the bustle of town. Whether it's experiencing the stunning views of the rocky coastline and lush rainforest; paddling up under Ketchikan's historic Creek Street for a look at our town "below ground;" exploring the intertidal zone and all of its life on low tide days; paddling with orcas and humpbacks playing in the channel; or watching bald eagles, raven, and gulls soaring overhead, kayaking in Southeast Alaska is not something to miss. We'll show you the Alaska we love from the view we love best!
Ketchikan Kayaking is a great way to get out on the water and explore the town in just 2.25 hours. For a wilderness experience, check out the 4 hour Orcas Cove tour.
Fishing
Ketchikan's greatest industry is our commercial fisheries. There's a reason sport fishing is one of the top activities for visitors: all five pacific salmon species spawn in the Ketchikan Creek in the heart of our downtown, and halibut, lingcod, and rockfish inhabit the ocean deep. There are many excellent charter boat companies in town. Our recommendations are our top-rated neighbors at Chuck Slagle's Baranof Excursions for halibut and bottom fishing fishing, and local born-and-raised Jared Oien's Rainy Day Charters if you'd like to try your hand with the salmon.
Fly in a Seaplane
Southeast Alaska's landscape is primarily mountainous islands chained together, carved out thousands of year ago by glaciers. Whether by water, by land, or by air, this landscape is stunning, and one of the best ways to see it is by float plane. You can combine Misty Fjords flightseeing with our Orcas Cove Sea Kayaking tour for the ultimate 5 hour Alaskan adventure. If you're just looking to fly, we recommend you go with the locals. Check out Jeff Carlin's Carlin Air, Dave Rocke's Family Air and Alaska Seaplane Tours for flights to Misty Fjords and Bear Viewing Tours.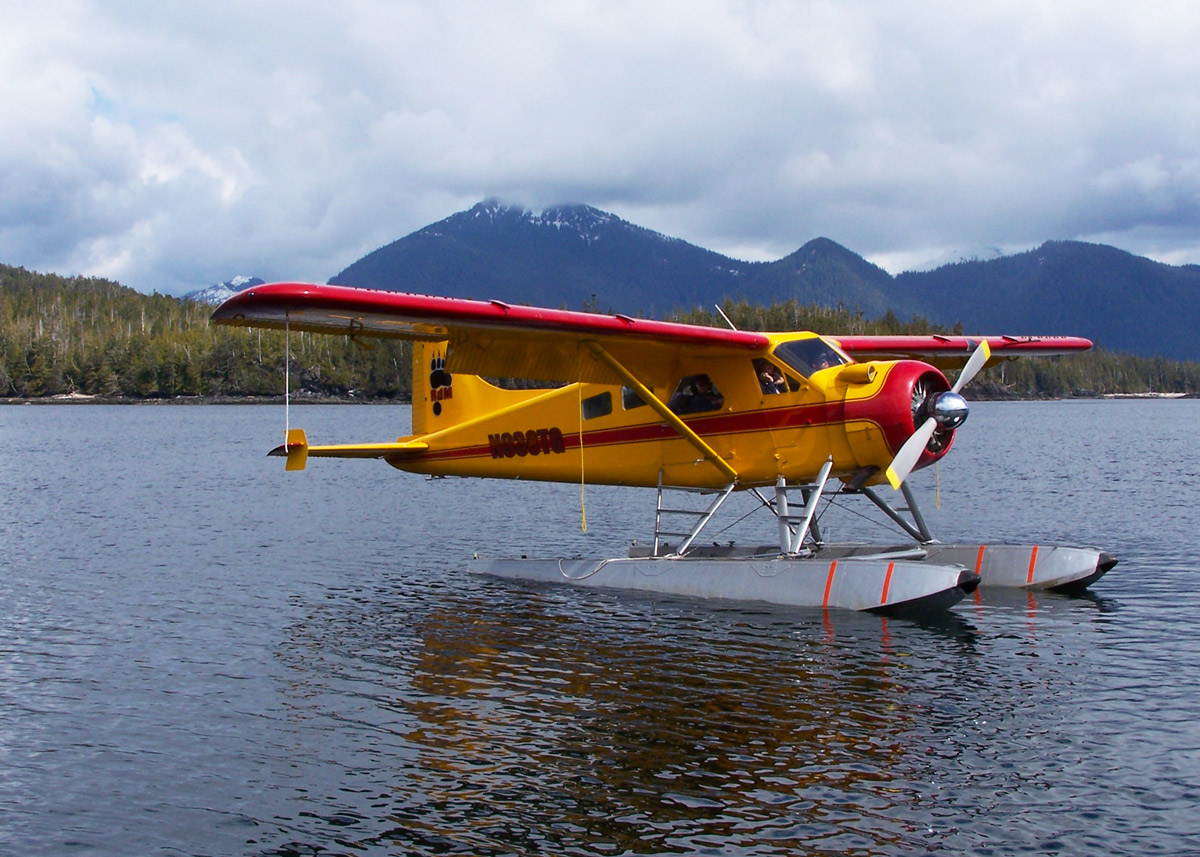 Alaska Seaplane Tours' DeHavilland Beaver arrives at Orcas Cove to fly guests to the Misty Fjords National Monument.
Take a Walk on Creek Street
Creek Street was built up on pilings, wooden stilts, and boardwalk: with our largest tidal swing spanning nearly 24 feet, this allows for the ocean to naturally rise and fall below. In the rough-and-tumble early days of Ketchikan, this was also the Red Light District and, during Prohibition, a great spot for bootleggers to sneak their booze in through the trap doors under the buildings–by the light of the moon on a high tide, of course! The famous madam, Dolly Arthur, occupied a residence near the mouth of the creek, which now serves as a museum, aptly named Dolly's House. If you're in Ketchikan in August, you'll also likely see plenty of locals fishing right off of the Stedman Street Bridge, and, if you're lucky, you might get to watch a salmon being reeled in.
If you continue up the creek on the Married Man's Trail, you may have a chance to see the fish making their way up the Salmon Ladder. Especially towards the end of summer, this creek is packed-full of salmon nearly belly-to-belly as they swim upstream. With such an easy meal available, you might even catch a peek at a harbor seal or two poking their heads out of the water, or swimming in the current.
Creek Street in Ketchikan, Alaska.
See the Totem Poles
Ketchikan is home to the largest collection of standing totem poles in the world! The Tlingit, Haida and Tsimshian cultures are an important part of the Ketchikan community. There are many carvers living and working in Ketchikan today.
There are many totem poles in downtown Ketchikan. The Chief Johnson totem pole, located next to Creek Street tells the story of Fog Woman and the salmon runs. The Raven Steals the Sun pole next to the Museum tells the traditional story of raven bringing light to the world. The Totem Heritage Center in downtown Ketchikan houses an extensive collection of 19th century totem poles, in addition to a collection of contemporary Northwest Coast art. Totem Bight State Historical Park and Saxman Native Village provide visitors with opportunities to see a significant number of large totem poles and to learn more about the Tlingit, Haida and Tsimshian cultures.
Enjoy Local Seafood
Ketchikan is the Salmon Capital of the World. Add halibut, rockfish, lingcod, crab, shrimp, mussels, oysters, and clams to the list of seafood options, and it's safe to say this is one of your best port options for fresh seafood. Our recommendations are:
The Alaska Fish House. Located directly above from our floating office and kayak dock, the Alaska Fish House is a great place for seafood. Our favorite? Either Crispy Salmon Tacos or Fish 'n' Chips with a side of spiced-up fries. (They also have a full bar, so you can enjoy your meal with a pint of Alaskan ale.)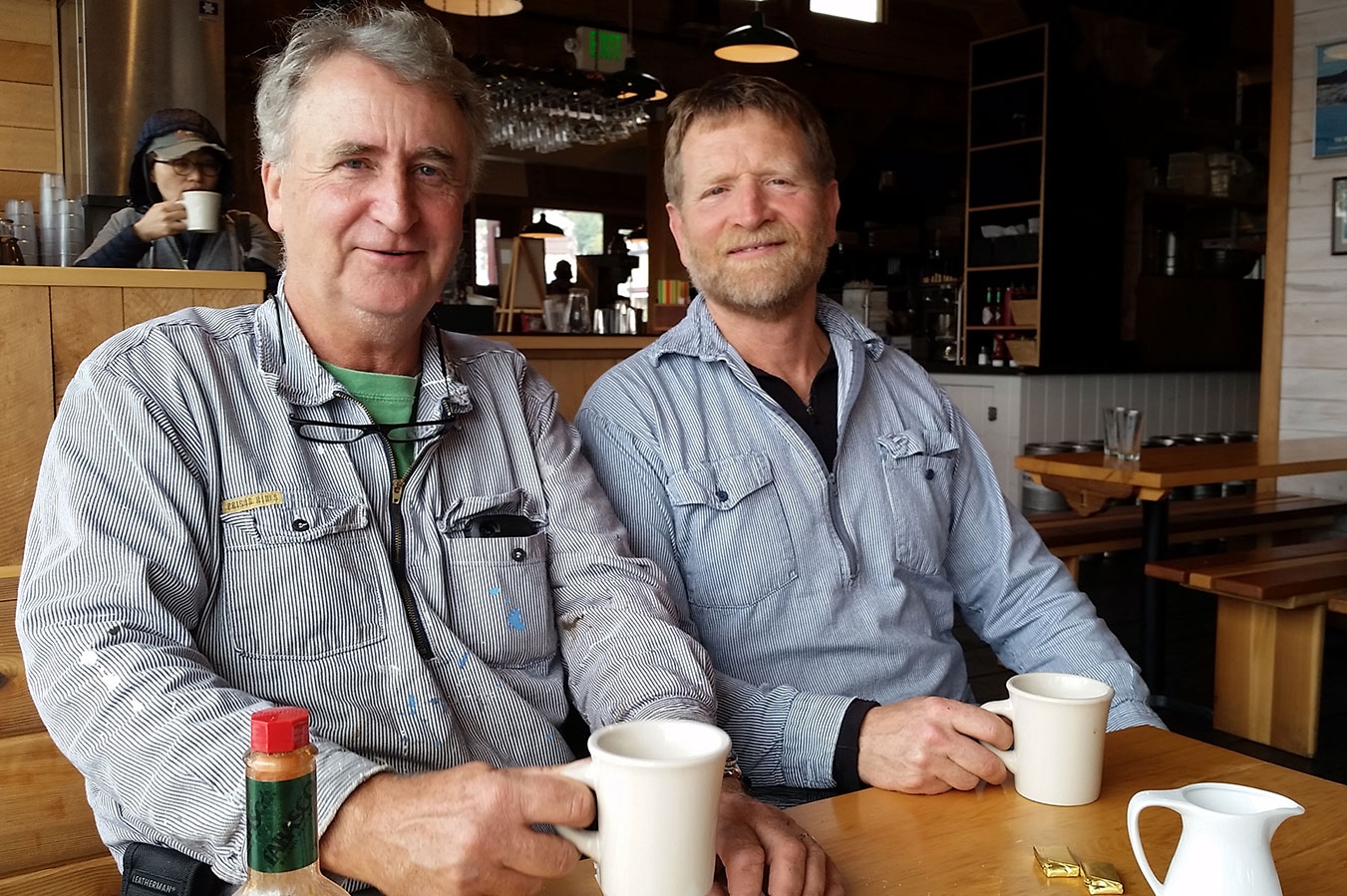 Southeast Sea Kayaks' Owner Greg Thomas shares a cup of coffee with Chuck Slagle at Chuck's restaurant, The Alaska Fish House.
The New York Cafe. Right near the mouth of historic Creek Street, the New York Cafe brings you right into Ketchikan in the early 1930s, with its checkered tile flooring and the original historic wood bar. The menu is a mixture of seafood, American, and Mediterranean cuisine, and includes some excellent vegetarian options. Our favorite? Try the Special (usually a local catch, if they have it), the Grilled Halibut Burger, or the Spinach Salad with Salmon.
Annabelle's Famous Keg & Chowder House. Located on Front Street across from Berth 3 in the historic Gilmore Hotel. Best known for its chowders – smoked salmon, clam, or seafood served with piping hot cannery bread – it's an easy walking distance from any of the cruise ships. 
Take In The Public Art
Ketchikan has a wealth of talented visual artists, all with unique styles of artwork. Some theorize it's due to the long, rainy winters which inspire locals to spend time indoors working on their individual crafts. For a [growing] list of our local artists go here. Here's how to enjoy their work while you are here in town.
Nathan Jackson is one Alaska's preeminent native artists, best known for his beautifully carved traditional Tlingit totem poles which are displayed all over the world. He works out of the carving shed at the Saxman Native Village south of town, and is well worth the visit–if you get there at the right time, you might even get to watch him carving his latest totem pole. He also has a beautiful collection of prints, all featuring traditional Tlingit subject material. If you don't have time to go to Saxman, you can check out his "Flying Eagle" sculpture, prominently displayed between Berth 2 and Berth 3, next to the tunnel on Front Street.
Nathan Jackson's Flying Eagle on Ketchikan's Front Street.
Artist Dave Rubin's primary medium is oil paints and pastel. He's a prolific painter, but he's also proven to be an incredible sculptor. His beautiful bronze sculpture–entitled "The Rock" and featuring figures representing the people of the early days of Ketchikan–lives right outside the Ketchikan Visitors Bureau, and is one of the most recognizable landmarks on the dock. (In fact, if you come on a tour with Southeast Sea Kayaks, we send you to meet your guide right "next door" to the sculpture, at the Liquid Sunshine Rain Gauge. Check out the art before your paddle!)
Dave Rubin's The Rock , right next to the Ketchikan Visitors Bureau.
Look up while you're walking along the cruise ship docks, and you'll see Terry Pyles's beautiful mosaic art atop the pilings. Terry's also the artist responsible for the mosaic salmon sculpture in the Ketchikan Creek (viewed near the top of the creek by SoHo CoHo). When he's not sculpting, Terry paints beautiful, realistic-style Alaskan scenes and wildlife, or creates stained glass sculptures and windows. (He and his wife, Cheri, also own The Point, a local art cafe south of downtown.)
Welcome to Ketchikan! We hope you enjoy your visit.