WHAT TO WEAR ON YOUR ALASKAN CRUISE
We're not super stylish, but we've been sharing the fun and beauty of kayaking in Ketchikan with visitors for over 20 years. Here's our local's guide to how to dress for outdoor adventures in Southeast Alaska.
Southeast Alaska is home to the world's largest temperate rainforest which means there's a good chance that it will rain at some point on your Inside Passage Cruise. Here in Ketchikan we average 160 inches (or approximately 13.5 feet) of rain a year. As you might imagine, locals never let the weather get them down – we just dress for it. There are quite a few Alaska vacation packing lists available, but most of them include outfits that are way more stylish than we could put together and many seemed geared more towards the arctic than rainy, temperate Southeast Alaska. So, while you're on your own for formal night, here's our Alaska Cruise packing list for the adventurous traveler who wants to be prepared for outdoor activities.
What to Pack
Layers. There are times on your Alaskan cruise when it's going to be cold! Especially if you plan to visit a glacier or spend time on the cruise ship deck when the ship is moving. Southeast Alaska is known to have sudden changes in weather – sometimes we go from sunny to cloudy to rainy and back again all within the same hour! With temperatures reaching nearly 80 degrees in some regions and dropping as low as 50 degrees in others, layers are a must when venturing into the rainforest. Pack at least three layers, including a warm base layer (like you might use for skiing), a fleece or sweatshirt, and a jacket. If all you have is cotton you'll be set for most excursions but, as with any outdoor activity, non-cotton or quick-dry synthetic blend clothing is ideal for keeping you  comfortable and dry. Yes, it's sometimes sunny and 75 degrees but for chilly, damp days a baselayer and lightweight fleece paired with a rain jacket to keep the rain off you (or to double as a windbreaker) will usually do the trick. Recommended brands: Smart Wool base layers are durable and popular. REI has cheaper store-brand layers on both kids and adult sizes.
Raincoat & Rain Pants. Don't be a poncho person! Poncho people don't plan for the weather. When it begins to rain they are forced run to the nearest trinket store and buy a poncho that is both ineffective and kind of silly-looking. If you want to be able to get outdoors no matter the weather, pack a raincoat and a pair of rain pants (or plan to buy a pair if your visit turns out to be rainy). It's typical to see locals geared up in raincoats and rain pants, so you'll fit right in! Umbrellas are not very effective if it's breezy and raining so getting the proper outer layers right will be much more useful. Recommended brands: Marmot, Mountain Hardware, and North Face make some of the guides' most-loved rain jackets. If you're looking for kayaking outerwear, Kokatat is the only way to go. Their USA made paddling specific jackets and drysuits are the best gear for kayaking in our rainy climate.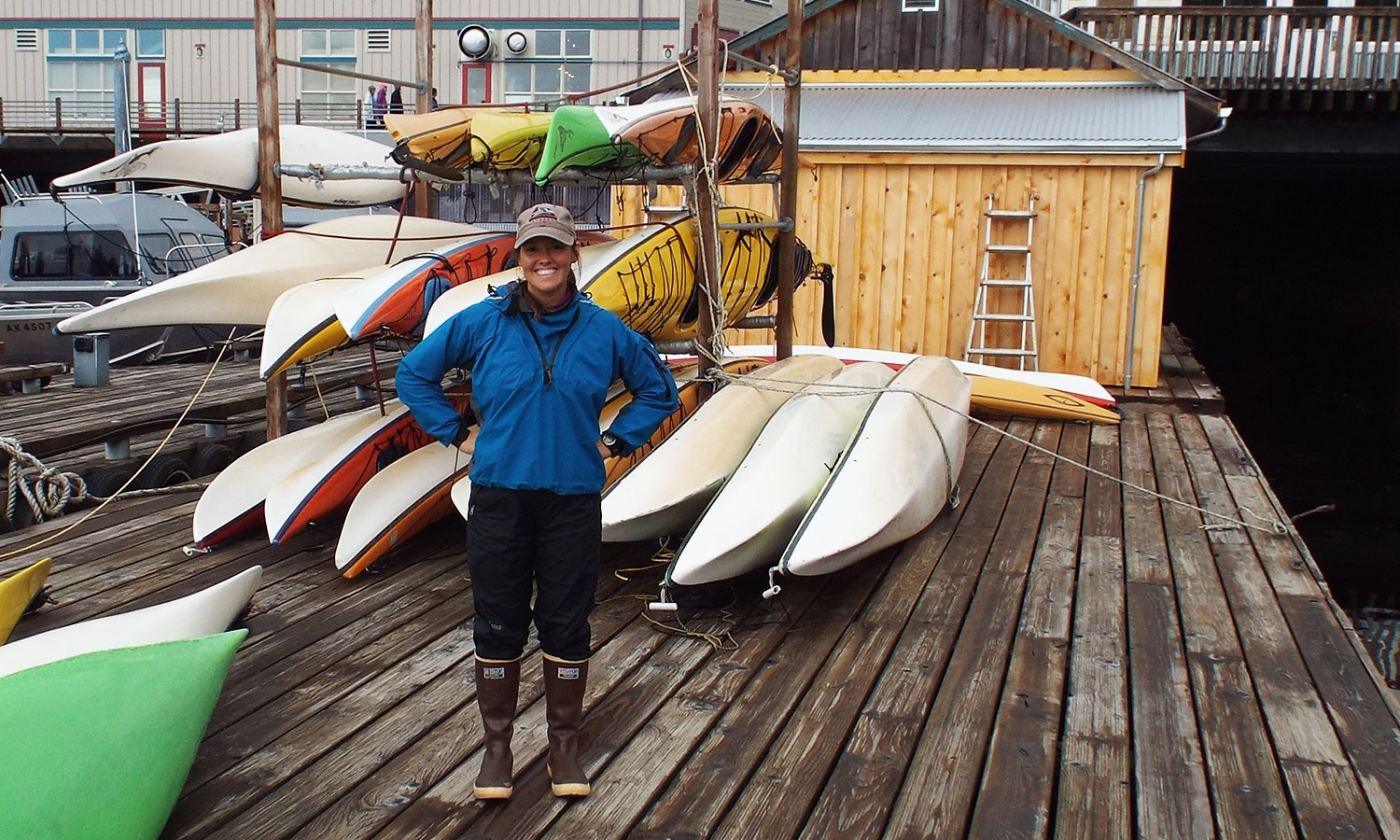 Guide Angela is always prepared for a day on the water!
Gloves. A pair of gloves will keep your hands toasty warm when hiking, or out on the cruise ship deck.
Wool Beanie & Baseball Cap. A nice, warm beanie will keep all that heat from escaping through your crown, and is great for tucking under the waterproof hood of your rain jacket for that extra layer. We also recommend bringing a good baseball cap – they're great for keeping hoods from flopping in your face and, believe it or not, we really can get sunny days! With the glare from the water when the sun is bright, that baseball cap will keep your eyes and face shaded.
Sunglasses.  Sunglasses are a much needed accessory for sunny days. If you experience one of those days where the weather changes from rainy to overcast to sunny in under an hour, you'll quickly find yourself squinty as your eyes try to adjust to that bright light shining off the water. When the sun does come out, it is often startlingly bright and you'll want that extra eye protection.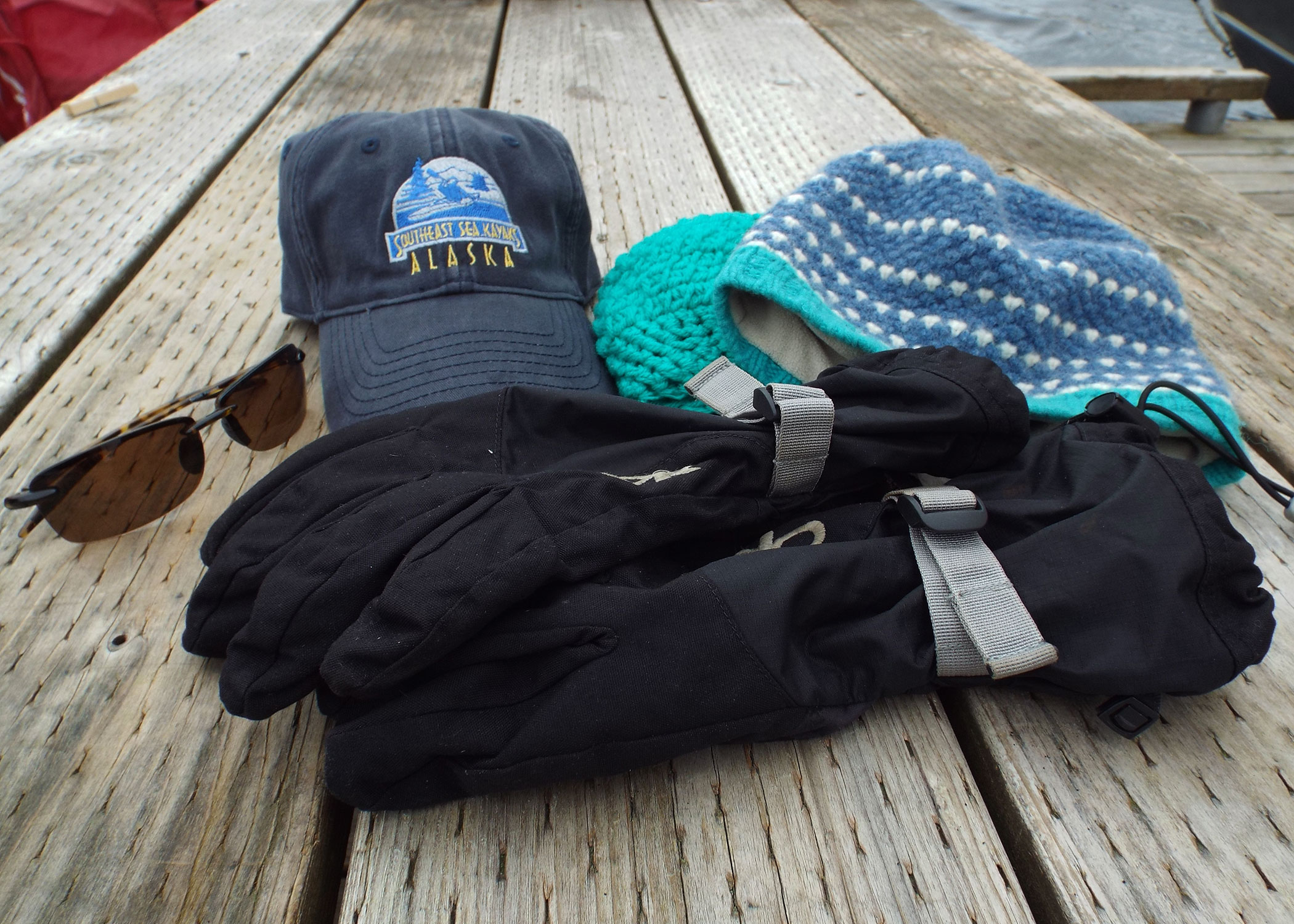 We suggest accessorizing with any of these items to keep you comfortable on your Alaskan Cruise.
If You Only Pack One Thing for Your Alaska Cruise, Bring…
Waterproof Shoes. No one enjoys soggy sneakers and the chances are good that if you get off the ship during your cruise your sneakers are going to get soggy at some point. Depending on what you plan to do, you might pack one or more of these options:
Waterproof Sneakers. We love our water resistant sneakers! They're great for walking around town, light hiking, kayaking and trail running,
Hiking Boots. A good pair of hiking boots is a great investment, and are ideal if you plan to hike, glacier climb, or even for walking around town. Many hiking boots come with exterior Goretex for waterproofing, which is highly recommended for time spent in rainy climates. Just remember it's important to purchase most hiking boots in advance, as they usually require some breaking in. No one likes the blisters that come from a brand new, stiff pair of hiking boots used for the first time on that steep, slippery mountain trail. Recommended brands: Merrel, Keen, and Asolo all make comfortable, high-quality hiking boots.
Rubber Boots. You can plan on picking up the local's favorite, XtraTuffs, at the nearest Alaskan sports store or bring a pair of your own rain boots.
But Don't Worry: If You Come Paddling, We'll Gear You Up!
When kayaking with Southeast Sea Kayaks, we make sure all of our guests have the proper gear to make for a fun, comfortable excursion. The experienced staff outfits each guest with our NRS paddle jackets and rain pants, PFDs, and spray skirts, all of which are available in a variety of sizes. All paddlers are additionally provided with a dry bag to store cameras, phones, binoculars, and any other items you may wish to take with you on the water.
Visitors to Ketchikan geared up for a rainy paddle.
What to Wear for Outdoor Adventures Infographic

Dress like an Alaskan: what to wear for outdoor adventures in Southeast Alaska, and shore excursions like kayaking or glacier hiking on an Alaska Cruise.