ALASKA CRUISE PLANNING: WHEN TO VISIT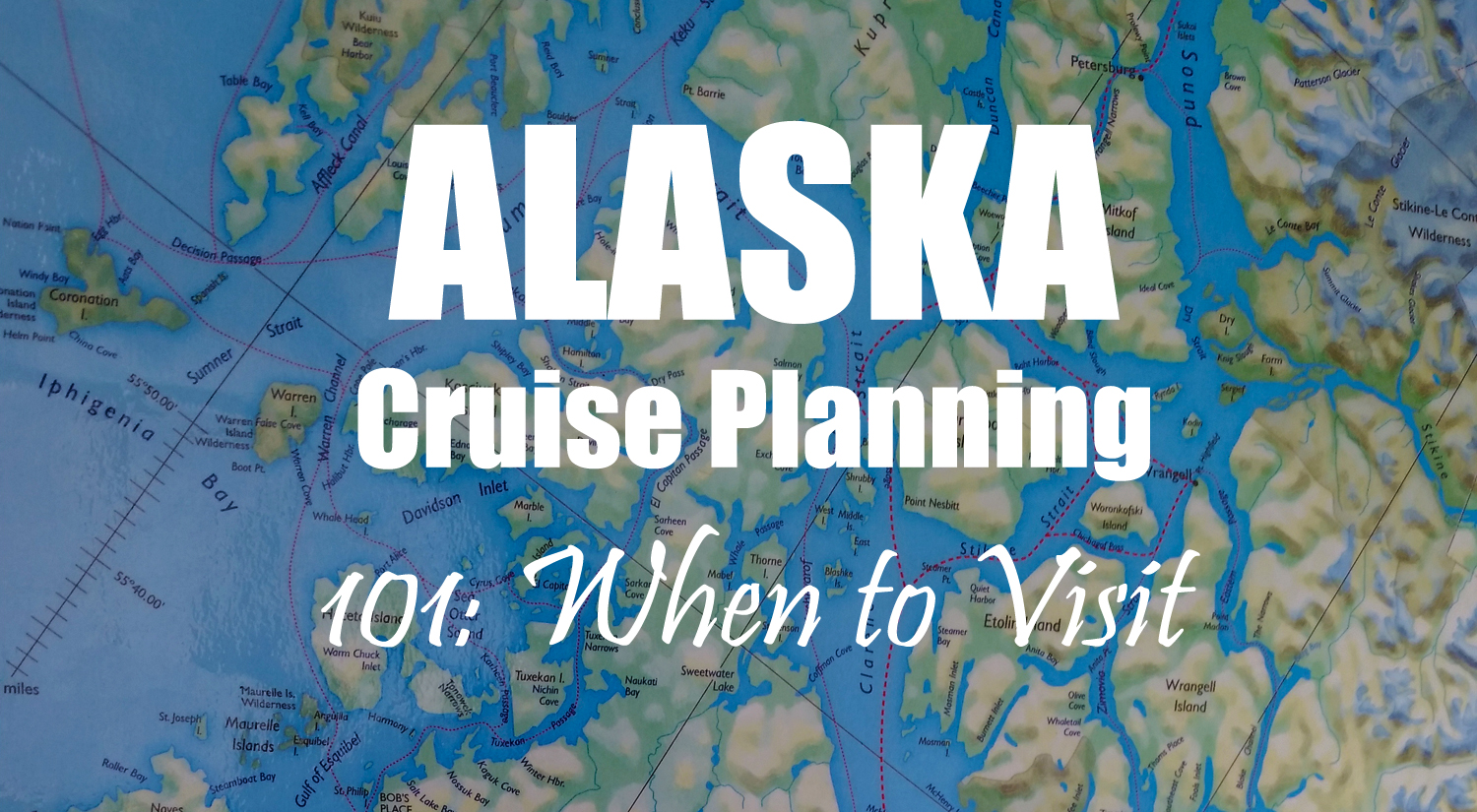 When is the best time to visit Alaska on a cruise?
Spring is an exciting time at Southeast Sea Kayaks. The phone starts to ring and the email in-box fills up: people are planning their Alaska cruises and adventures. Greg and I have a lot of fun talking with folks who are planning their trips. While we are definitely Ketchikan specialists, we have gathered tons of great information from our guests and neighbors in other Alaskan towns over the years. Here is the first of a series of blog posts that might be helpful to anyone planning a cruise to Alaska.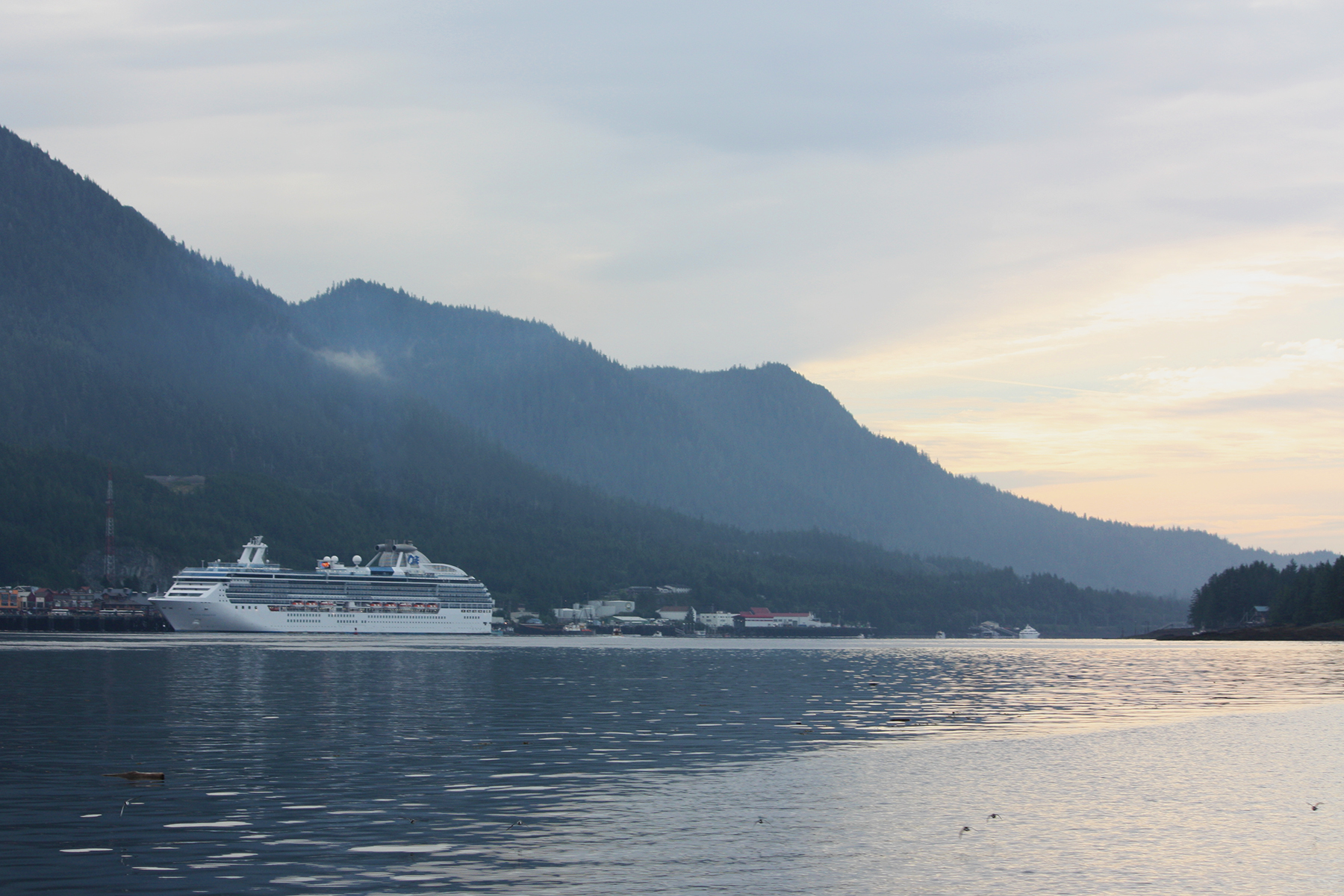 Cruise ship at the dock in Ketchikan.
When is the best time to visit?
The scenery and wildlife change with season. Before you pick up that exceptional cruise deal think about what you really want to see and do in Alaska. It's a little heartbreaking when we meet people in early May who came all the way to Alaska for the fishing. The truth is, the salmon fishing just isn't great until late May or early June here in Ketchikan. Similarly, people who visit in September are tremendously disappointed when their cruise stops are changed due to weather. While it doesn't happen all the time, it pays to know that September weather is unpredictable and occasionally creates conditions that force cruise ships to change their plans.
The beautiful, rainy rainforest of Southeast Alaska.
Southeast Alaska is home to the world's largest temperate rainforest. It's a unique ecosystem that depends largely on the runs of wild salmon that return each year to spawn in the rivers and streams. When the salmon return it's easier to see the whales, bears, eagles, seals and all the other creatures who feed on salmon.  As you might imagine, it rains here in the rainforest, quite frequently, but some months definitely have better chances of good weather than others. Even if you plan a visit during one of the warmer, "drier" months, don't forget to pack a rain coat. Of course warm is a relative term too. In Ketchikan, our average high in the summer months is around 60 degrees Fahrenheit and our average low is around 50 degrees. Here is a general idea of what to expect for weather, salmon and wildlife at different times of the Alaska cruise season.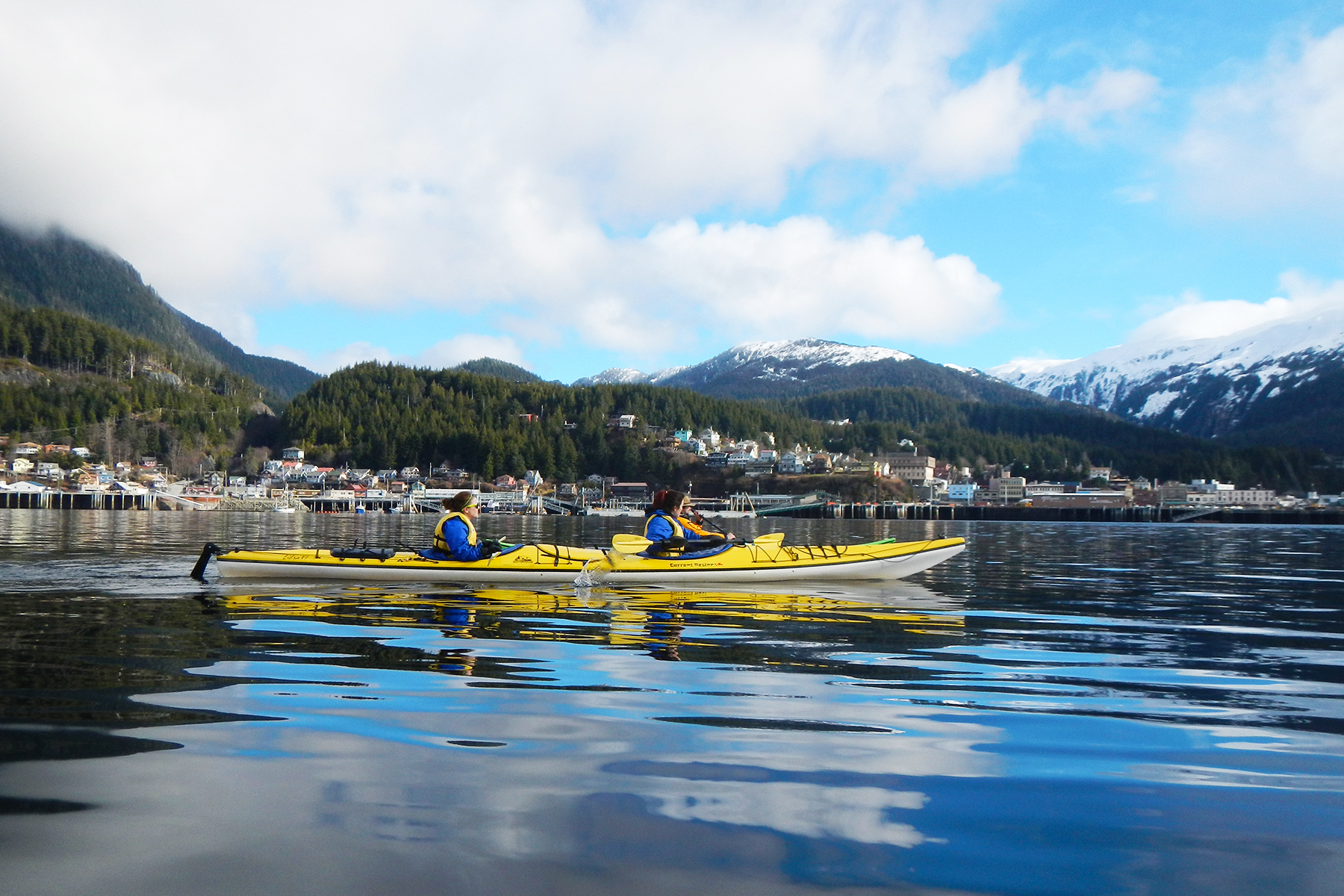 A beautiful May day for kayaking in Ketchikan.
May
May is the beginning of the summer cruise season in Alaska. The first cruise ship arrives in Ketchikan on May 1st this summer and there are only one or two ships in port per day (compared with 5 on busy days mid summer) until the 17th of the month. We think that May is a great time to visit; it's beautiful when there is snow on the mountains here in Ketchikan but it can be a little early for fishing, bears and whales. It's chillier than June, July, August but there are fewer visitors, cruise lines have some great deals and your chances of good weather are much better than in September. If you want to visit at a quieter time of the season and don't mind that it's a little early for bears or salmon fishing then May might be the month for you.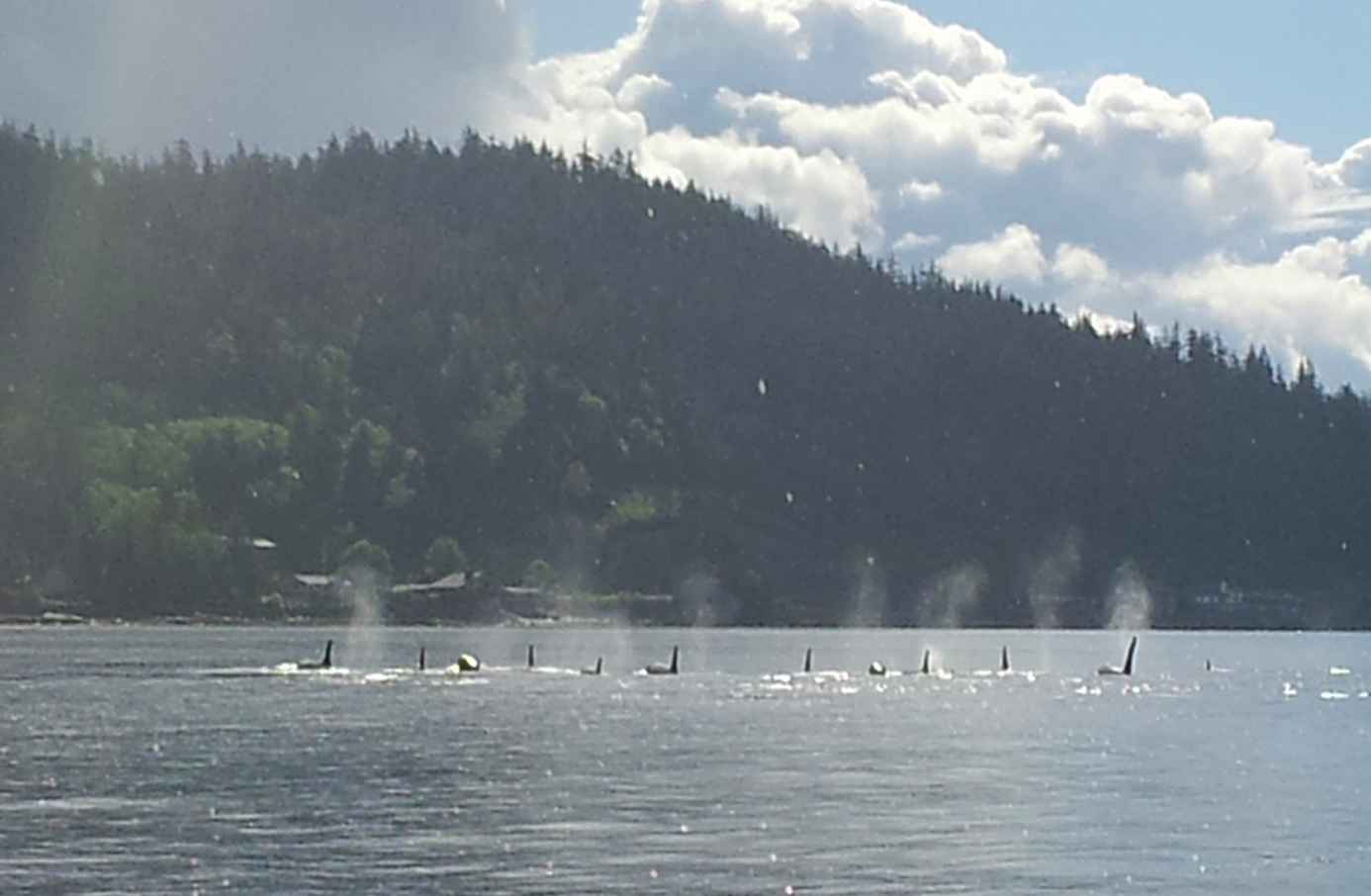 Orcas love June in Ketchikan! We spotted this group on the boat ride to Orcas Cove in June 2014.
June
June, especially early June, is a little less busy than July and August but the cruise ship season is now in full swing. Alaska has lots of daylight in June, even in Ketchikan, which is almost the southernmost town in Alaska we have daylight from 3:30am until 10:30pm. The salmon runs are beginning and the weather warms up to. June is a good time for whales around Ketchikan, particularly for orca sightings. If you are looking for "warmer" weather and smaller crowds, June is a great time to visit.
In most areas of Southeast Alaska July and August are the best months to see bears.
July
Salmon runs and summer are in full swing which means that the fishing is good, the weather is warm (by our standards) and the town is hopping. July is a great time to visit especially for families and people who love to fish. July is a good month for whales and the bears are also more visible as they start to congregate to feast on the salmon runs. Although a busy cruise ship day can bring 10,000 people to Ketchikan there are plenty of ways to escape the crowds and experience the real Alaska.
Sunshine in August. Kayaking the Misty Fjords National Monument.
August
August is still great fishing, the king salmon are mostly gone (at least in our area) but the silvers are coming in and there are salmon running in all the creeks and rivers. August is a peak time for seeing bears in creeks with salmon in their teeth. Like July, August is warmer and, on average, slightly drier than other months. Without any scientific data to back up this assertion we at Southeast Sea Kayaks claim that August weather is only good until the 21st of the month. After that we start to see our old friend…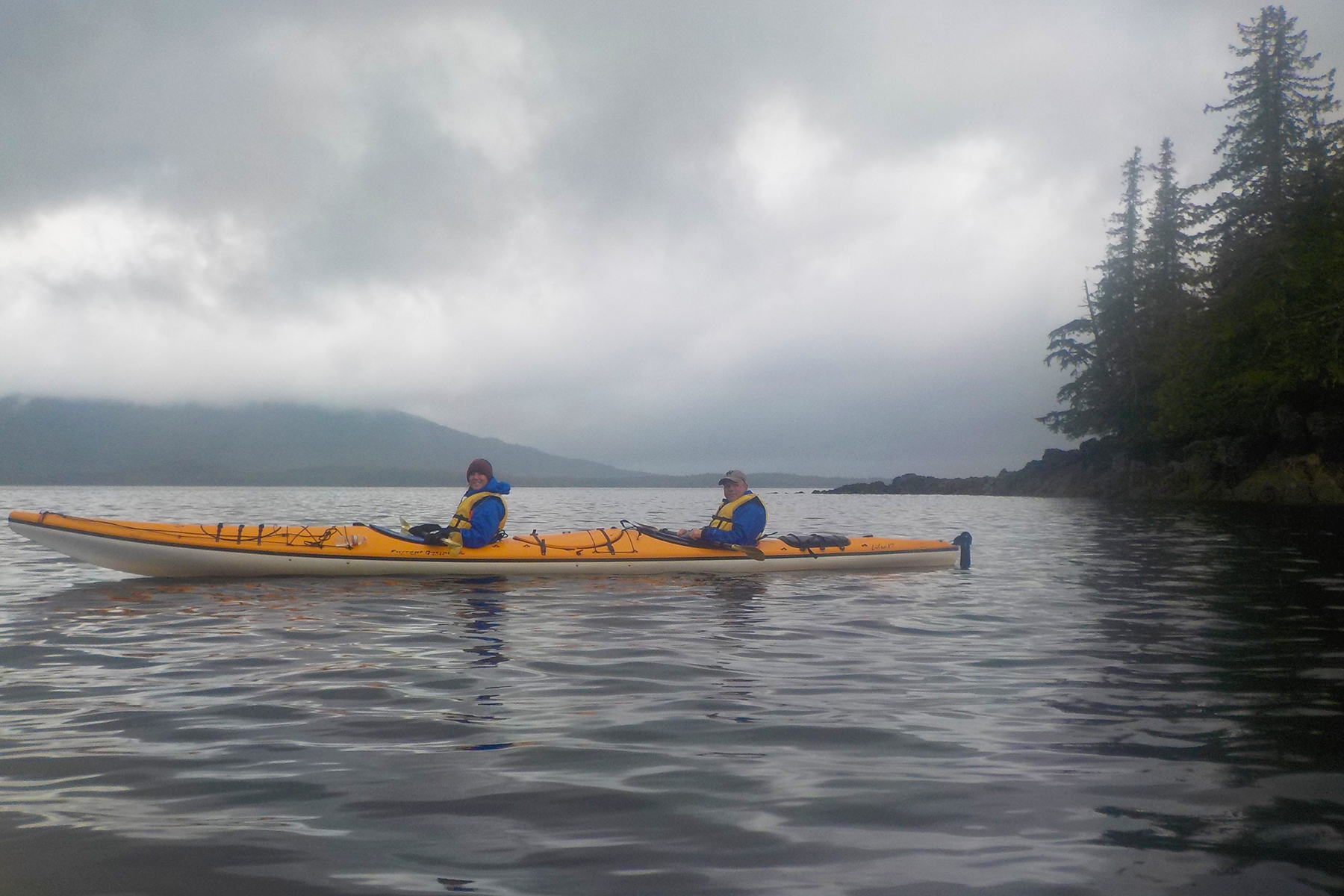 A little mist and rain don't stop us from having fun. They are part of the beauty of Southeast Alaska.
September
If you want the genuine Alaskan experience, September might be the month for you, with an average of 13.81 inches of rain, September tends to be rainier and windier than any other month. September visitors should be prepared for rain but might be pleasantly surprised by lovely sunny weather. Cruise lines offer great deals on Alaska cruises in September and there are far fewer visitors. The fishing is still good especially for silver salmon here in Ketchikan and there are still excellent opportunities to see wildlife. Just be aware that towards the end of September, rough seas and high winds occasionally mean that cruise lines have to change their schedules or skip a port.
Want to know more? Please don't hesitate to contact us. We still love answering questions by email or phone.
For more detailed weather information see:
http://www.usclimatedata.com/climate/ketchikan/alaska/united-states/usak0125

When is the best time to visit Alaska? It depends what you want to see; each month has its own highlights.