WHAT'S SPECIAL ABOUT KETCHIKAN? AND HOW TO SEE IT WHEN YOU VISIT
It's not often Ketchikanians have an actual ball to attend but our newly elected governor and lieutenant governor chose to recognize the isolation, inaccessibility and uniqueness of Alaskan communities by travelling around Alaska holding inaugural balls in some of Alaska's bigger towns. Last weekend the Tatsuda family, Greg and I attended the final inaugural ball in Ketchikan. The Ketchikan Governor's Ball began with bagpiping complete with men in kilts, followed by a story told by Tlingit artist Mary Ida Henrikson and short speeches by the lieutenant governor and governor. Governor Walker is a wonderful speaker; I think the state can feel comfortable with its reins in the hands of a man who, as a child,  had to sneak through a herd of buffalo in 40 below weather to get back inside from the outhouse. He opened his speech with a vignette about being told that "there's something special about Ketchikan."  While I am sure the Governor says that to all the towns, I am going to run with that theme for this week's blog because I agree; there is something very special about the town of Ketchikan, Alaska.
The governor got me thinking: what is it that makes Ketchikan special? Spectacular scenery, rich history, a thriving fishing industry? There are many towns in Alaska that have these qualities in abundance too. Looking around the Governor's Ball I realize that it is the people that make Ketchikan special. The ballroom is filled with artists, small business owners, teachers, pilots, doctors, commercial fisher men and women and mariners. People are dressed in Native Regalia; kilts; ball gowns and tuxedos with Xtra Tuffs. When the speeches are finished a big band takes the stage and the music is amazing. What makes Ketchikan so special? This town has soul. It is a place where people lead authentic lives connected to their environment and each other; where the arts, native culture and small business thrive together.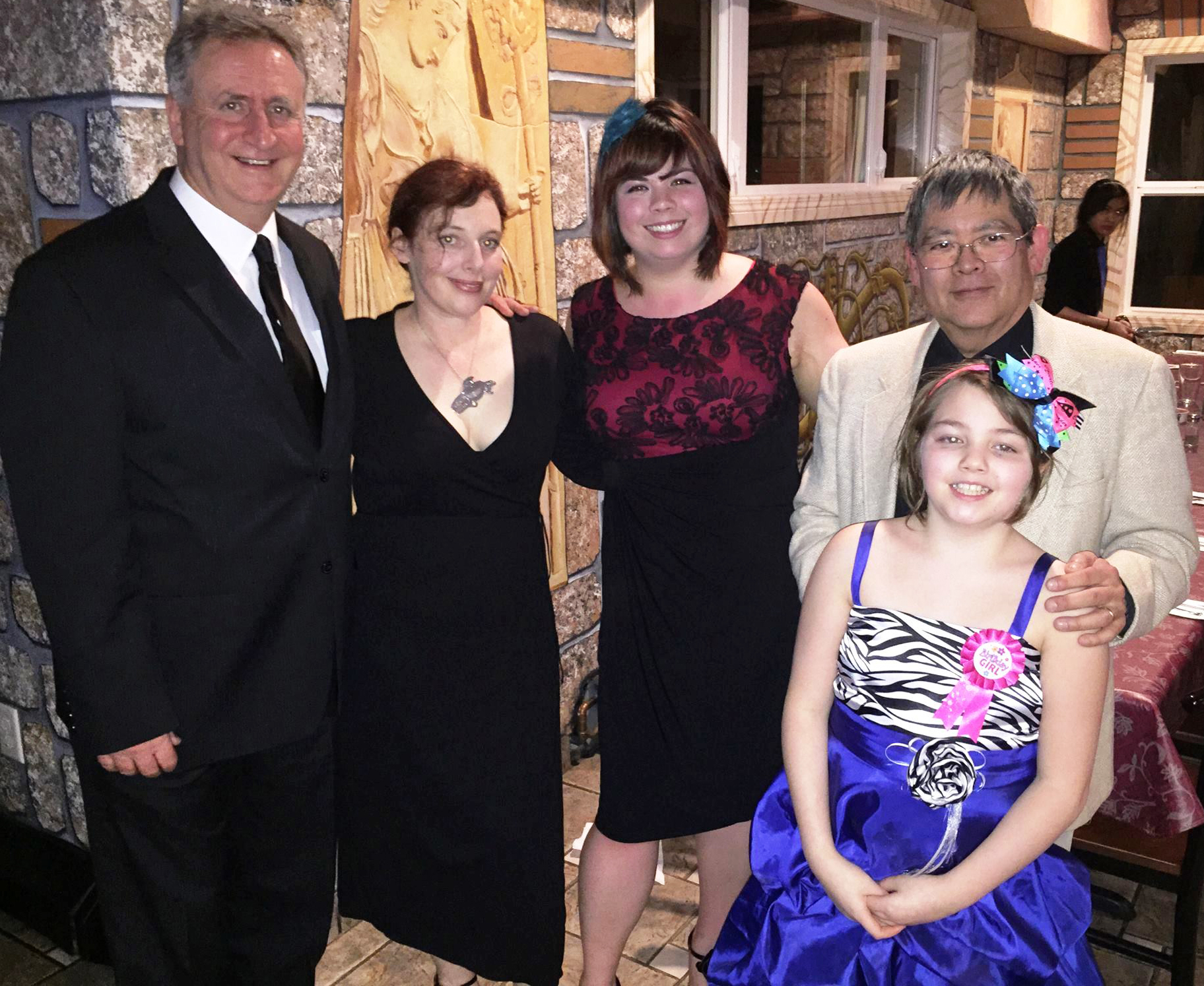 Headed to the Governor's Ball in Ketchikan with three generations of Tatsudas. The Tatsuda family has owned Ketchikan's Tatsudas IGA since 1916. From left: Greg, Gillian, Katherine, Bill and Desiree.
While the spirit of the town is easy to see at the Governor's Ball in the heart of winter when the downtown tourist stores are shuttered and the cruise ship dock is empty; it's harder to find in the summer when almost 10,000 cruise ship passengers wander the town and the jewelry stores that follow the cruise ships have thrown open their doors. It always makes me sad when guests on our tours say; "this town is nothing but jewelry stores," because it is so much more! So how can visitors to Ketchikan explore the town's unique culture? Here are my recommendations for finding the heart and soul of the town:
Tlingit artist, Norman Jackson , is the Carver at the Creek.
Discover the Native Culture
The Tlingit people were the original inhabitants of the Ketchikan area but the town is now home to a diverse population of Alaska Natives including Tlingit, Tsimshian and Haida people. Ketchikan is famous for having the largest collection of standing totem poles in the world. The main totem pole parks, Totem Bight and Saxman, are both a little way out of town but there are many totem poles and native sculptures in downtown Ketchikan. Check out the "Raven Steals the Sun" on the Ketchikan Creek and the "Chief Kyan" Pole in Whale Park on Mission Street. Visitors who are keen to learn more about totem poles and native culture can visit the Totem Heritage Center which is a short walk or shuttle bus ride from the cruise ship docks. Ketchikan is home to many wonderful native artists whose work can be seen throughout the town and in the art galleries in the historic district.
The "Raven Steals the Sun" Pole is one of many totem poles on display in downtown Ketchikan.
Visit a Local Small Business
Come kayaking with us! If kayaking is not your style, take a floatplane trip to Misty Fjords with a local pilot owner/operator like Carlin Air or fish with the locals: try Baranof Excursions for Halibut or Rainy Day Charters for salmon. Aside from the good feeling you get from shopping with a local business, booking a tour directly with a local company usually means smaller groups and more personal service than the cruise ship excursions.  
Take time to eat local and shop local as you explore the town. Go and see Charlotte Glover at Parnassus Books for a huge range of Alaska books and all the best vacation reads. Take a stroll past the Ketchikan Creek and check out the funky wares at Ketchikan Dry Goods or head on down to Tatsudas IGA for the best prices on smoked salmon in town.
Charlotte Glover, owner of Parnassus Books at her store in downtown Ketchikan.
There are lots of great local places to eat in Ketchikan especially if you like seafood which is, of course, the specialty of the salmon capital of the world.  The Alaska Fish House is our go-to for real Alaskan seafood including fish and chips and crab. Sweet Mermaids, opposite Tongass Trading, is our favorite for coffee, cakes and huge breakfast burritos. The New York Cafe is the place for vegetarians and lovers of middle eastern cuisine.  At the end of the day (or any time really, it's always noon somewhere right?) there's no better place to enjoy an Alaskan beer and slice of pizza than Fat Stan's which is conveniently located at the Salmon Landing, right next door to Southeast Sea Kayaks.
Checkout the Public Art and Art Galleries
You can't swing a cat without hitting a piece of art in Ketchikan; that's because Ketchikan is a very arty town. We have Native art, wearable art, fish art, mosaics, watercolors, pottery, sculptures… you get the idea. To celebrate Ketchikan's artistic heart there are works of art all along the cruise ship dock and throughout the downtown area. Be sure to check out Dave Rubin's bronze statue, "The Rock", right next to the Ketchikan Visitor's Bureau;  Nathan Jackson's Eagle next to the Tongass Trading Store; and Terry Pyle's "Yeltatzie Salmon" on the Ketchikan Creek.
Terry Pyles' "Yeltatzie Salmon" near the Soho Coho on the Ketchikan Creek.
Our guests often ask us where they can find real Alaskan souvenirs to take home; in Ketchikan the best bets are the work of local artists or smoked salmon. To find local art pieces bypass the shops on the cruise ship dock and head over towards the Ketchikan Creek via Mission Street. Scanlon's Gallery and The Crazy Wolf Studio are along the way and no visit to Ketchikan would be complete without a stop by the Ray Troll's Soho Coho on the Creek where you will find Ray's signature fish humor art and the work of many other local artists.
For those travelers willing to venture beyond the herd there is so much to explore in Ketchikan. It's possible to experience, even in a short visit, what this wonderful little town is all about. Don't be shy, Ketchikanians are a friendly bunch; they love to meet people and share a story (or three). We hope to see you here and that you enjoy Ketchikan as much as we do!